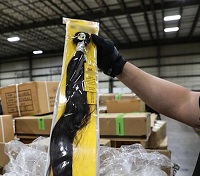 Time and again, American customs officials have detained goods suspected of being made by forced labor. As per an AOL report, the US has been detaining goods suspected of being made by forced labor since 1930. This fiscal year, American Customs and Border Protection, or CBP, detained at least 967 shipments worth more than $367 million. This has forced brands to think about their legal obligations towards laborers employed by overseas suppliers, says Scott Nova, Executive Director, Worker Rights Consortium.
World's largest disposable glove manufacturer, Top Glove recently announced success in addressing forced labor issues in the company and submitted evidence to the agency. The company reiterated its commitment to ensure workers' wellbeing, health, safety, and happiness in future.
International apparel brands have pledged to stop sourcing cotton from Xinjiang. Brands including Nike and
H&M have issued statements boycotting cotton made with Uyghur forced labor. The apparel and footwear industry is committed to protecting its supply chains from forced labor, affirms Steve Lamar, President and CEO, American Apparel and Footwear Association. Companies are using new technologies and methods to monitor their supply chains, he adds.
Infrastructural challenges slacken work pace
However, brands have often criticized the CBP for the slow pace of investigations and lack of transparency. The agency relies on investigations made by nonprofit organizations to derive its conclusions. House Ways and Means Committee members have often pressured CBP to quicken its enforcement. However, the agency blames federal laws governing the disclosure of trade information for the slow pace of work.
CBP also faces infrastructural challenges while working on the forced labor issue. The agency has only four employees and lacks an official budget to tackle the issue. It established a Forced Labor Division in 2018, but it still had only about 12 staff members more than a year later, according to a report last year from the Government Accountability Office, or GAO.
No entry for forced labor imports
Experts believe, the US enforcement alone is not enough to curb forced labor as goods no longer allowed to enter the US can easily find their way to other markets. Countries therefore, need to ensure goods made by forced labor do not find a safe harbor for their goods, says Allison Gill, Forced Labor Director, Global Labor Justice-International Labor Rights Forum. Recently some countries including UK and France have implemented transparency laws that direct companies to report how they identify and take action against human rights risks in their supply chains, as well.
Other countries like Australia and Taiwan are also planning to implement US style laws, to curb forced labor practices. The European Parliament plans to adopt new laws banning imports made with forced labor across the EU. US lawmakers also plan to implement new laws to restrict forced labor imports. The Senate passed a new bill in July barring all imports from Xinjiang over concerns about forced labor. Nova believes, all these laws are feasible if brands show real commitment to address forced labor and provide the required resources for it.