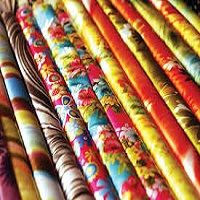 Largely used in smart textile applications such as sensors, heating textiles and electrostatic discharge clothing, conductive textiles are seeing higher demand with the spread of COVID-19. These textiles basically comprise fabrics woven with metal or carbon that are mostly used in the fitness apparel and healthcare industry.
As per a Textile Focus report, the main purpose of conductive textiles is to shield objects, including humans, against electromagnetic interference. These textiles are made using conductive yarn or coatings. The market for these textiles is expected to witness robust growth from its 2017 valuation of 1.7 billion over the 2017-2022 forecast periods.
Healthcare, military to drive demand
The key factor driving demand for conductive textiles is the rising demand for clothes with sensory biomarkers. Demand for clothes fitted with sensors is
rising amongst consumers seeking a physically active life. These clothes are made with conductive textiles to monitor the user's heart rate, body temperature, etc.
Another sector contributing to the rising demand for global conductive textiles market is the defense sector. Electronic sensors made with conductive textiles are being used in modern military outfits to gain tactical advantage over enemies. Many countries are incorporating these technologies to increase their military capabilities.
North America to lead growth till 2022
Future market for conductive textiles is likely to be dominated by North America which has a steady presence of several innovators in the electronics and semiconductor industry. The North American market for conductive textiles is likely to grow at a 5.5 per cent CAGR between 2017 and 2022. The Europe and Asia Pacific Japan markets are also likely to witness a steady demand for conductive textiles for modernization of their military services.
The others segment is likely to remain the leading contributor to the conductive textiles market through the 2017-2022 forecast period. The segment will account for 25.7 per cent of total conductive textiles market by 2022. Its absolute growth in valuation is expected remain highest over the 2017-2022 forecast period. Future conductive textiles market is likely to be dominated by leading innovators like Bekaert Inc, Seiren Co, Toray Industries, Laird Plc, and Parker Chomerics. The market is likely to see many new innovations leading to increased demand from various application sectors.