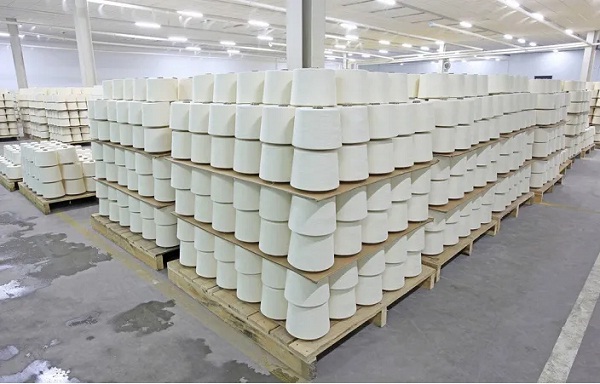 India's cotton yarn exports decreased 2.15 per cent Y-o-Y but increased by 4.50 per cent M-o-M to 95,200 tons in March 2022.
Bangladesh tops yarn imports from India
As per a CCF Group report, Bangladesh remained the largest importer of Indian cotton yarn with imports remaining constant at 49 per cent from last year followed by China whose imports declined 81.37 per cent Y-o-Y but increased 35.40 per cent M-o-M to 5,994 tons. China accounted for 6 per cent of Indian cotton yarn market in 2022. Egypt and Portugal emerged the third and fourth largest importers of cotton yarn with 6 per cent and 4 per cent of imports, Turkey accounted for 4 per cent yarn imports while the imports by other countries accounted for less than 4 per cent. The export share of most countries either remained flat or declined as compared to February 2022.
Exports to China decline
In March 2022, China's yarn imports from India remained significantly lower than the same period last year and month. The largest increases were seen by Gautemala whose imports increased 104.88 per cent Y-o-Y. In March 2022, exports of all four mainstream Indian cotton yarns to China dropped year-on-year and month-on-month. India mainly exported carded C8-25S/1 varieties of cotton to China accounting for 61.15 per cent exports totaling 3,665.27 tons in volume.
Overall, India's cotton yarn exports declined Y-o-Y in March 2022 but increased M-o-M during the period. Importers included Bangladesh, China and Egypt. Exports to China dropped Y-o-Y but increased M-o-M. Exports of all four main yarn varieties to China declined Y-o-Y with the carded C8=25S/1 variety recording the largest export growth.