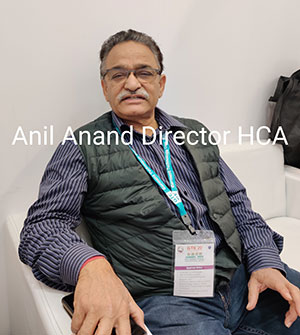 Growing employment is a serious issue in the Indian apparel industry. "To solve this issue, the industry needs to introduce certain measures. Anil Anand, Director, HCA, elaborates on these.
A leading manufacturer of sewing spares and services in India, Hari Chand Anand and Co. (HCA) has been providing affordable and innovative automation solutions since the last 110 years. One of the major USPs of the company is that it doesn't work on any automation that is more than one and half to two years old. "That's never going to pay us back," says Anil Anand, Director of the company.
According to Anand, the industry can address the issue of unemployment by putting the excess people on the land into garmenting. "Garment makers can set up their factories in catchment areas. However, for this to happen, we need to provide the adequate infrastructure and drawbacks," he adds.
An apparel manufacturer can control his costs by operating in a textile park. If he moves to a new place, his manufacturing costs are bound to increase. "Though India offers lower manufacturing costs than China, our productivity is also low. We need to boost our productivity in order to increase labor wages," views Anand.
According to him, a definite way to increase productivity is to make the labor laws more flexible. "Shahi Exports has repositioned itself by amending labor laws. This is an example for others to follow. To be sustainable, brands need to hire young professionals. They need to guide newcomers to this industry," adds Anand.