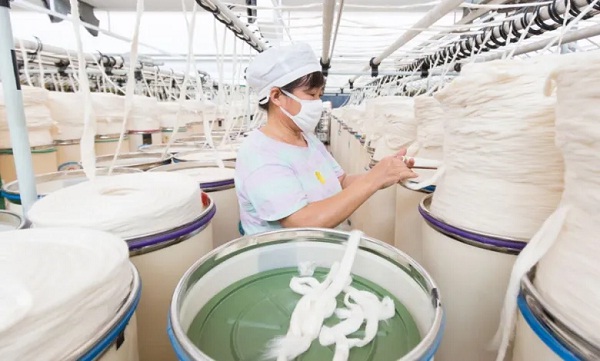 The use of organic cotton is increasing amongst brands across the world. As per the Quint report the organic cotton market is expected grow at 40 per cent CAGR to reach $6,730 million by 2028. India, a major global cotton market, produces over half of the world's organic cotton, according to the Textile Exchange, a global non-profit for the fibre industry. The government has launched the National Program for Organic Cotton Production that aims to provide an accreditation framework to consumers, producers, processors and traders across the country.
India also has over 5,000 GOTS-certified facilities. It currently produces organic cotton worth 1.23 million tons. Madhya Pradesh and Odisha are among the states with significant rise in production. As cotton requires plenty of water and harmful pesticides for cultivation, it has often been called the world's dirtiest crop.
Natural fertilizers, less emission make organic cotton good choice
However, organic cotton replaces harmful pesticides with organically approved ones. Farmers use natural fertilizers to grow organic cotton. They also abstain from using genetically modified seeds. The entire cultivation chain in organic cotton is closely monitored. Farmers do not use artificial substances such as formaldehyde and chlorine to process and manufacture organic cotton. This makes clothes made from organic cotton more comfortable and durable. Also, carbon dioxide emitted from production of organic cotton is almost half of those emitted through conventional cotton production.
Challenges in cultivation
Despite these benefits, organic cotton production and manufacturing faces certain challenges. First, farmers often lack access to good-quality seeds suitable for organic farming. Similarly, organic fertilizers and bio-pesticides are not always available for the cultivation of organic cotton. To cultivate organic cotton, farmers to be trained to use natural fertilizers and create a healthy soil balance. They also need to keep pests under control instead of destroying them with the use of chemicals.
These challenges can be surmounted through an effective collaboration between farmers' association with environmental bodies. These associations can arrange the terms of microcredit for farmers. They intervene to make organic cotton yields more attractive. In short, inputs and facilities can be made more readily available and the benefits of soil health can be properly communicated.
Setting global standards for organic fibers
Selling organic cotton with credibility requires proper labeling and certification. Global Organic Textiles Standard (GOTS) aims to achieve this by setting the global standard for organic fibers. To be GOTS certified, all processes and activities in the chain need to be periodically inspected on-site. GOTS certification also enables processors and manufacturers to export fabrics and garments in major markets.
In India, organic cotton production is monitored by state governments. The country currently has over 5,000 GOTS-certified facilities, the highest number in the world. GOTS recently cancelled all wrongly issued transaction certification after a thorough audit amid reports of faulty certification leading to fake organic cotton products, a thorough audit was conducted by GOTS. It is developing a revised system for raw material checks and reviews of certification bodies.
Transforming farming communities
The outlook for organic cotton in India is marked by rising production and increasing growth. Many organizations and industry experts are streamlining the supply chain to create favorable conditions for buyers and suppliers to promote the industry. A responsible supply chain is being created through the formation of a body called the Organic Cotton Accelerator (OCA).
India currently produces 1.23 million tons of organic cotton with Madhya Pradesh and Odisha leading production in the country. Besides, production in Maharashtra, Gujarat and Rajasthan has grown to 99 per cent of the total cotton production in the last five years. The Indian Council of Agricultural Research with associated bodies has released 64 non-GM cotton varieties and hybrids from 2017 to 2021. These varieties can be adopted by organic cotton growers to directly the crop.
Minimizing pollution and making the world a better place, organic cotton is thus transforming farming communities in India besides improving livelihoods and reducing climate change.