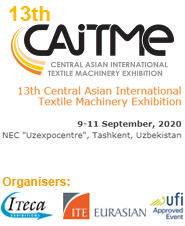 Venue Address: NEC "Uzexpocentre", Tashkent, Uzbekistan
Oragniser: ITE Uzbekistan
Official Website:
www.caitme.uz
E-Mail:
This email address is being protected from spambots. You need JavaScript enabled to view it.
Tel: +998 71 205 18 18
Contact Person: Gullola Nadirkhanova
City: TASHKENT,Uzbekistan
Industry: Textile Machinery Show
Date: 09-09-2020 ~ 11-09-2020
PREVIEW:
Caitme is the largest International Textile Machinery Exhibition in Central Asia. CAITME is a showcase of the latest technology and a meeting place for buyers and sellers in the textile industry from all over the world. CAITME provides companies with the best opportunity to successfully enter one of the most promising markets with dynamically developing textile industry and recognised regional textiles and fashion centre.