Keycheng printing machinery from Taiwan, one of the participants in ongoing TPF 2016 fair for digital printing technology, has a cutting edge idea to present, "The machine which we have displayed, is a revolutionary advancement to the conventional printing machine as it runs on CMYK concept and is a functional hybrid between conventional and digital printing machine", according to Yao Ya-Hsing, General Manager Keycheng.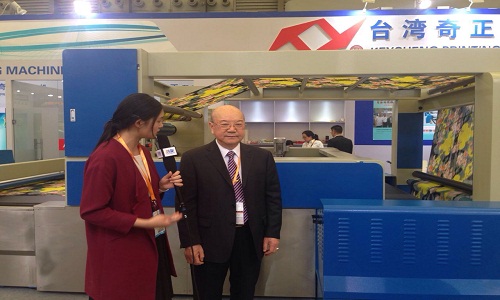 He claims, "The printing fabric quality it offers is more real. The kind of the penetration it can provide can't be matched by any other form of printing. It can support any thickness of the fabric as there is no 'gsm' restrictions compared to digital printing which surely has restrictions. Here there is no coating required while the same is not true even in digital."
"The machine is by design meant for mass production and can achieve anywhere between 40000-50,000 metres per day which only rotary can match, but rotary has limitations of quite different sorts like of lack of precision it delivers and can have only repeat of 640 mm, whereas here there is no repeat restrictions. Over here there is no restrictions of type of fabrics as well, it can work on cottons, viscose, nylon and polyester-cotton, all with equal ease, whereas digital is more effective on polyester etc. Besides, colour spectrum is very wide you can literally run your imagination wild. The best part of it is machine is incredibly low running cost as low as fifth of any printing machine. Initially preparation screen time use to be high but now with new advanced 'Blue Ray' system, it's cut down on the preparation time quite a bit." Explains Yao.
"As any CMYK concept machine requires low water consumption and then again it's recycled for resource conservation. Energy costs are also supposed to be less than conventional printing process. Since it uses Japanese parts from Yasakawa and electrical components from Fuji,Japan or Germany it's very stable and doesn't need any intense preventive maintenance, doesn't break down so easy, therefore no trouble shooting is generally required. " emphasises Yao Ya-Hsing