Banking on the growing demand for its machines, Turel Group expects 2020 to be a great year for the company.Viraf Turel, Chairman expounds on the company's operations, future plans and the market in Ludhiana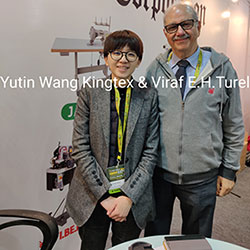 Unperturbed by the economic recession, the Turel Group of companies grew by 20 per cent in 2019. The company expects 2020 to also be a great year for it. "Our growth mainly comes from the jeans segment," notes Viraf Turel, Chairman of the group. "Almost two of three Indians wear jeans as it offers them great comfort, convenience, and is also fashionable," he adds.
Automation for all
The company is a great proponent of automation as it believes that the customer is always looking for automation. "However, this automation should be carried out at an affordable price and it should be flexible in use," he cautions further adding, "it should be useful to all customers and not restricted to any particular product."
Multiple employment opportunities
Technology is not stealing jobs. There are multiple jobs available in the industry. "However, people don't like to work as garment operators. They want a hygienic and comfortable factory environment that is also free from dust and noise pollution, has a five day work culture and is free of supervisors screaming at the operator. This is where automation helps," adds Turel.
Turel is very optimistic about the Ludhiana market. Though imports from Bangladesh are a problem, the Ludhiana market is quite enthusiastic. "We are receiving quite a few inquiries for automatic machines and labor saving devices from this market," adds Turel.