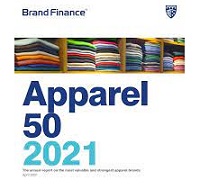 In 2021, 62 per cent of the total value generated by the world's top 50 valuable luxury and premium brands was from apparel brands reveals 2021 Luxury and Premium 50 report by Brand Finance. The report states, 30 apparel brands dominated the ranking. However, the value of these brands declined due to COVID-19. Total value of the world's top 59 most valuable and premium brands declined 5 per cent year-on-year, from $227.1 billion in 2020 to $219.5 billion in 2021.
Gucci wins despite a drop in brand value
Italian fashion value Gucci emerged second in the list dominated by German auto giant
Porsche, who topped with a brand value of $34.3 billion. Gucci's brand value however, declined by 12 per cent this year. With a 118 per cent growth in brand value, French ready-to-wear and leather luxury goods brand Celine emerged as the fastest growing brand, while American luxury design house Coach recorded the biggest decline of 31 per cent in brand value in its apparel segment. The value of this segment declined to $47 billion.
Tapestry bucks downturn with strong e-commerce growth
Along with brand value, sales and profits also took a hit this year. However, Coach's parent company, Tapestry recorded triple-digit e-commerce growth besides a strong rebound across the Chinese market. The report also brands' relative strength based on factors such as marketing investment, customer familiarity, staff satisfaction, and corporate reputation. Automaker Ferrari tops this list with 2 per cent growth to $9.2 billion. It emerges as the world's second strongest brand in the list. Rolex follows as the second strongest luxury and premium brand in the world. The brand's value increased by one per cent to $7.9 billion in 2021 due to the watch market's strong resilience to the pandemic turmoil
Towards responsible apparel production
Alex Haigh, Valuation Director, Brand Finance believes, the pandemic can help transform the industry by accelerating e-commerce use and making apparel production socially and environmentally responsible.
Taking steps in this direction, German automaker Porsche has introduced the brand's 'Strategy 2025.' Through this strategy, the automobile brand aims to launch more sustainable offerings like Taycan which sold 20,000 units last year. The auto giant also aims to maintain the traditional aspects that the brand is known for.
Hospitality suffers as consumers 'work from home'
The rise in work from home culture led to a complete standstill in the hospitality industry. However, two hotels Shangri-La and Intercontinental managed to buck the trend. Ranked on the 29th position, Shangri-La emerged as the highest-ranked hotel brand. Home to several five-star luxury properties across Middle East, Asia, North America and Europe, the hotel recorded an impressive growth across mainland China as domestic leisure travel supported demand. On the other hand, the Intercontinental Hotel was ranked 35th in the list.