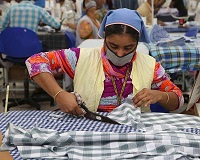 The pandemic proved to be a death knell for Bangladesh RMG industry as exports dropped almost 18 per cent in FY2019-20. Factories were closed for almost 45-75 days as exporters faced order cancellations and payment delays. Reopening of factories also proved to be a challenge for owners as they had to comply with stringent health protocols. Statistics show, Bangladesh's RMG exports to the world dropped 10 per cent from $31,733 million during July-May 2018-19 to $28,561.85 million during July-May 2020-21. Knitwear exports dropped from $15,682.45 million in July-May 2018-19 to $15,362.32 million during July-May 2020-21 indicating a 2 per cent year-on-year drop. Export of woven garments dropped almost 17 per cent from $16,051 million during July-May 2018-2019 to $13,100 million during July-May 2020-21.
Award for promoting green industrialization
However, it was not all gloom for Bangladesh RMG as BGMEA received the '2021 USGBC Leadership Award' during the year for promoting environmental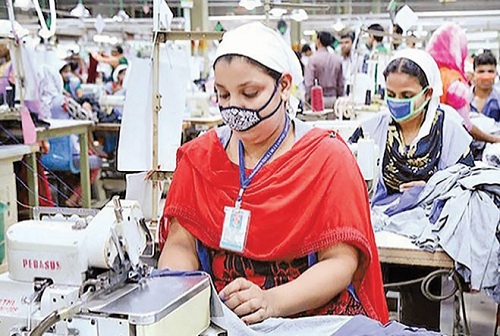 sustainability and green industrialization. BGMEA became the only association in the world to receive this award, states Faruque Hassan, President, BGMEA.
Hassan goes on to state, recognized as the pioneer in global green industries, Bangladesh houses the highest number of green garment factories in the world. Around 144 of its LEED factories are certified by the US Green Building Council (USGBC). Of these, 41 are Platinum, 89 Gold, 12 Silver, and 3 certified factories. Environmentally-safe, these factories also meet international standards in workplace safety and hygiene. Their sustainability and resource-friendliness indicates the tremendous made by Bangladesh in this domain in the last 10 years.
Strong supporter for ethical manufacturing
Bangladesh is also known for its ethical manufacturing process. The country has been ranked second in Ethical Manufacturing by a Hong Kong-based supply chain compliance solutions provider 'QIMA'. With a score of 7.7, Bangladesh is rated only behind Taiwan which scored 8.0. The country scores in a vast range of parameters including hygiene, health and safety, waste management, child labor, labor practices including forced labor, worker representation, disciplinary practices, discrimination, working hours, wages, etc. Its scores in this report testify to the resilience of its garment industry, and commitment to improve workers' standard of living.
Adjusting to changing trade rules
Currently, Bangladesh is the second-largest exporter of basic garments in the world, Hassan points out. It is also one of the most safe, secure, environment friendly, trusted, sustainable and dependable sourcing countries in the world. A recent McKinsey and Company study, 'What's next for Bangladesh's garments industry after a decade of growth,' highlights the transformation in garment industry in terms of transparency, safety and security, diversification and management over the past 10 years.
The report urges industry leaders to continue with these transformations and upgrade their business models. Experts need to focus on innovation, up-gradation, value addition, diversification, and the fourth industrial revolution, the report says. They also need to conform to Europe's double transformation rules of origin after 2029. Another issue experts need to think about is making investments feasible, adds the report.