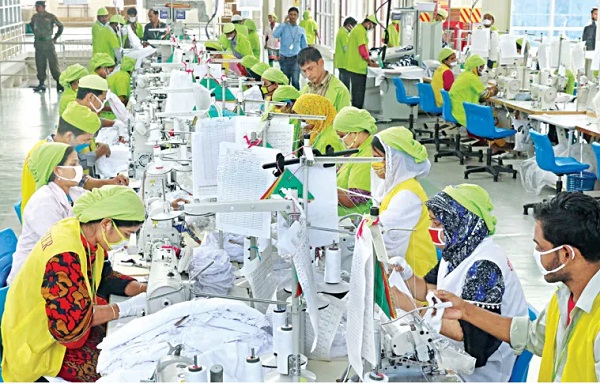 Insufficient power and energy supplies have failed to discourage Bangladesh entrepreneurs from investing in the country's RMG sector, witnessing excellent flow of work orders. Big domestic entrepreneurs like the Team Group, Urmi Group, RDM and Sheltech are expanding their garment manufacturing capacities to corner a bigger market share. They entrepreneurs are setting up new facilities in rented buildings with a minimum investment of Tk5 crore.
So far, 160 big and small companies have invested approximately Tk4,000 crore to set up knit, woven and denim factories in Bangladesh, says a Business Standard report. Their total investments in the sector is between Tk18,000-Tk20,000 crore.
Aim to grow garment exports to $1 billion by 2026
Around Tk720 crore has been invested by the Team Group to develop an industrial village housing a denim factory with 32 production lines, a washing plant, a sweater factory, and a blouse manufacturing unit.
The project will allow exporters to influence the growing global apparel market in which Bangladesh has a major stake, opines Abdulla Hil Rakib, Managing Director, Team Group. The new units will commence production by 2023, he informs. Besides adding $90 million to the group's annual export turnover, the facilities will also create jobs for 5,000 people, hopes Rakib. They will boost Bangladesh's annual apparel exports to $1billion by 2026, as the country graduates from being LDC to a developing country.
High-value products with latest technologies
Real estate pioneer, Sheltech Group plans to set up a denim garment and a knit composite factory in Bangladesh by 2023, says Engr Ktubuddin Ahmed, Chairman, Envoy Textiles. These eco-friendly factories will produce high-end apparels. Both factories will be developed as a joint venture with well known international garment maker and manufacture of high-value apparels. They will produce high-value garments with latest technologies for high-end buyers, Ahmed says.
Urmi Group has also expanded with a new garment factory in Tejgaon. The unit set up with an investment of Tk120 crore has 40 production lines. It has generated about 3,000 jobs, claims Asif Asraf, Managing Director. At present it employs around 1,400 with more hiring in the offing. The unit's turnover is also set to reach $200 million by the end of this year.
Chattogram-based RDM Group plans to establish a 12-line capacity garment factory by the end of this year. The group also own seven production units.
BGMEA, BKMEA add new members
Planning to set up new units, around 14 new groups obtained provisional memberships of the BGMEA this year, confirms Rakibul Alam Chowdhury, Vice President, BGMEA. Around 110 new factories obtained BGMEA memberships for setting up new factories in Bangladesh, adds Sahidullah Azim, Vice-President. Around 50 factories have approached BKMEA for permissions to import garment machinery, says Fazlee Shamim Ehsan, Vice-President. Most of these factories are expanding their production capacities, he adds
A few entrepreneurs are setting up factories despite the ongoing energy crisis. They plan to negotiate increased prices with buyers. These new factories will help entrepreneurs bag new work orders in the next two-three years, informs Shamim.