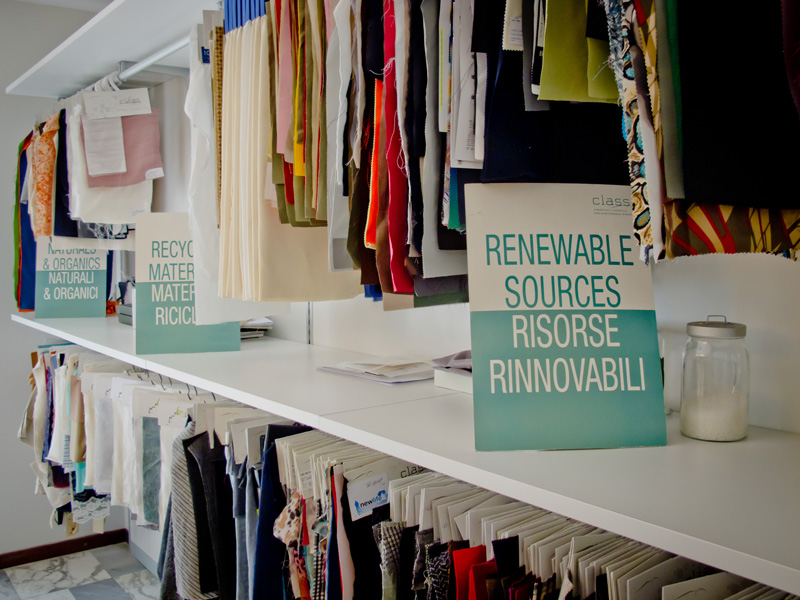 Set up in 2007, CLASS (Creativity Lifestyle and Sustainable Synergy) is a global unique multi-platform network that showcases exclusive fashion, textiles and materials created using smarter sustainable technology. The initiative provides a comprehensive global communication, marketing and product development consulting service through innovative and sustainable design solutions.
The product categories available at CLASS showrooms include natural and organic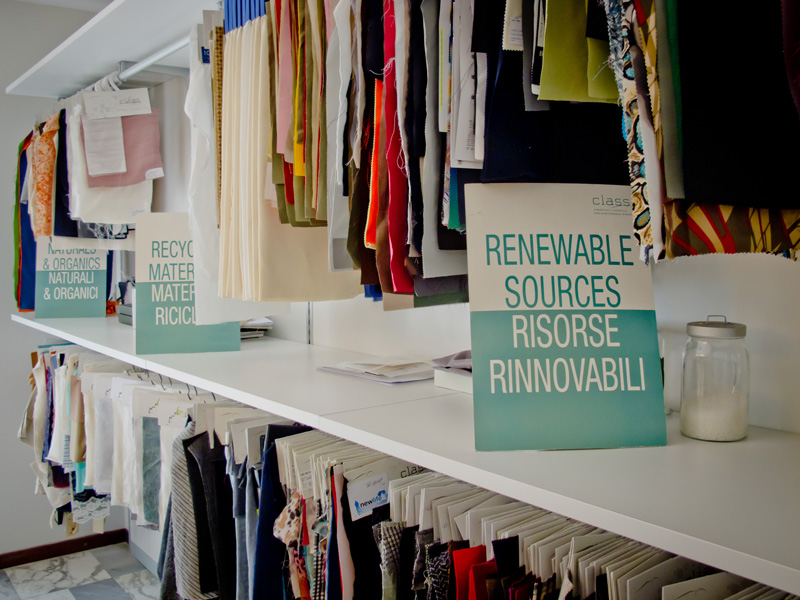 textiles made from wool, silk cashmere, cotton, linen, hemp, vegetable tanned and dyed leather. Fabrics made from recycled polyester (eg. Newlife), recycled polyamide, cashmere, cotton, denim and wool (e.g. Cardato Regenerated) created to reduce carbon footprint. Innovative renewables made from new biopolymers (e.g. Ingeo), paper, milk protein, soy, seaweed, regenerated cellulosic's (e.g. Tencel),wood pulp fibre (e.g. Lenpur), bamboo, Modal/Micromodal and crab's carapace fibre (e.g. Crabyon). These textiles are designed to reduce dependency on oil and promote more sustainable renewable resources.
It is an international eco-platform that supports and promotes environmentally sensible products for fashion, home and design through a wide range of eco-textiles, yarns, processes and services. Its global network of showrooms feature a comprehensive materials library, available for businesses, designers and buyers as well as highlights from ranges of finished high-quality and stylish fashion garments and accessories, products for the home, and eco-relevant lifestyle products. From marketing and product development consulting service centered around a new approach to textiles that includes design, innovation and responsibility, CLASS serves as a complete communication tool.

Green Carpet Challenge
In 2012, CLASS joined forces with 'The Green Carpet Challenge' (GCC) by Livia Firth to create the first "Green Carpet Challenge Fabric Library". The Green Carpet Challenge is a dynamic project founded by Livia Firth and British journalist Lucy Siegle which pairs glamour and ethics to raise the profile of sustainable style at the world's most high profile red carpet events.

(GCC) is a fast moving, dynamic project working on a number of levels to unlock the potential of Sustainable Style. Working with A-list designers and pioneering sustainability in brands, the GCC has catapulted sustainable style into the spotlight at the world's most high profile events. From the Golden Globes and Academy Awards to the Met Ball and Cannes Film Festival, the GCC has collaborated with all the iconic design houses in the world winning widespread critical acclaim and international media attention.
The Green Carpet Challenge (GCC) team are experts in sustainable supply chain innovation and fabric technology. It works directly with brands to develop their supply chain, traceability and sustainable credentials, across the board or with specific product focus. In addition the GCC collaborates with the world's top designers and fashion houses on high profile, event based projects. The GCC team also drives and champions an impressive sustainability agenda throughout the fashion and accessories sectors.