R K Rewari, Managing Director, Morarjee Textiles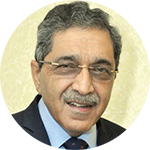 "It is wait and watch strategy as we have been informed by customers due to the pandemic all orders are on hold. We can prepare ourselves for future challenges of low demand. Low demand means markings are also low and competitiveness is higher in the market this puts pressure on us to go back to basics to see our cost structure, ways of doing business etc. Many things might change. One is low demand, and the other is new rules of conducting business, most of which will be through video conferencing etc. It looks like there could be a systematic change in overall structure. We are preparing ourselves by keeping our morale high, think positive and identifying the gaps that need to be filled to enable us to meet the challenge of demand whether it is low or high."
With a lockdown, what is the current status of India's garment and textile industry?
COVID-19 is one of the deadliest disruptions in decades. However, how much it will affect and for how long is difficult to gauge. Indeed it is a serious disruption and will affect most businesses including the textile industry adversely.
Does India have the capability to fill China's space as a sourcing destination?
If China loses the confidence of consumers and big retailers only then will India be able to fill its space. However, their cost structure and prices are so attractive and they are efficient product producers. So, unless we match their productivity level and speed it will be difficult for us to get any space from China. Other countries like Vietnam, Cambodia even Bangladesh, are far above us in productivity levels for apparels which is the ultimate engine of our exports. In a market place your position is not granted by just the availability of space. Your space is granted by the competitiveness of your production ability. So, while this is an opportunity for India to grab more market share; it is a greater opportunity for us as a country to enhance our productivity levels, train ourselves more and get into this with a winning streak. Only, then it will be possible, else it will be like the old quota system where business comes as quota as we have never concentrated on technological development, production development etc.
The retail industry will also face a big hit because of the lockdown. Future sale of apparels will largely depend on the sentiment that prevails after COVID-19 is eliminated or some kind of vaccine is invented. Till then, we all will be in a troubled zone, as we are an industry that has high fixed costs and margins are low. So, if we cannot handle fixed costs then there is no revenue generation. Therefore, most industries will be on the path to sickness.
What steps has Morarjee Textile taken to overcome the challenging times?
It is wait and watch strategy as we have been informed by customers due to the pandemic all orders are on hold. We can prepare ourselves for future challenges of low demand. Low demand means markings are also low and competitiveness is higher in the market this puts pressure on us to go back to basics to see our cost structure, ways of doing business etc. Many things might change. One is low demand, and the other is new rules of conducting business, most of which will be through video conferencing etcc. We are preparing ourselves by keeping our morale high, think positive and identifying the gaps that need to be filled to enable us to meet the challenge of demand whether it is low or high.
Spring/Summer seems to be goner; how do you foresee Autumn/Winter?
Autumn/Winter season is not so big in India because we are largely cotton or cotton-polyester based. Our country's textile production mix is not too suited to meet the demand of winter season. Hence, jacket, suits and woolen goods manufacturing capacities are not as good as far as exports are concerned. In domestic market, we will have to see how big retailers like Reliance, Madura Garments, Pantaloons, Max and Future come out of this situation. Roughly, their overall sales may be down 20 per cent, even if things become normal in a month or so. We have to be hopeful and positive for the Autumn/Winter season. I feel there will be less travel, less interaction in the next six months. Most retailers will like to clear their inventories and there will still be big demand supply gap. Demand is not going to be high as per supplies.
Indian government has been given some incentives. Do you feel the government done enough for the textile industry during this challenging time? What are your expectations?
The government's top priority is to save people and they have not looked very seriously at the economic aspect of it. Whatever is available with them, they are doing it for everyone. At this moment I don't think the Central or State government has taken any sectorial view, specifically for the textile industry. They are just in the process of giving general relief like, a shift in the time line or installments etc, they are positive measures, as they will help us breed well and think for the future. However, so far I don't think there has been any specific incentive or relief for textile industry. Our associations are engaging with the ministry on this but it appears to me that for a couple of weeks the government will be watching and gauging seriously how to fight COVID-19 and looking at relief. Also, they have given first priority to the have nots, the daily wage earners etc, and are trying to look after them and with the progressive political leaders we have at this moment. I hope they will soon look at different segments with more relief packages. I think it is a matter of time.