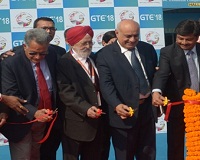 The Garment Technology Expo (GTE) 2018, held from January 19 to 22 at NSIC Complex, New Delhi, concluded on a positive note for both visitors and technology suppliers who displayed latest innovations.
On Day 4, despite being the start of the week, people came in huge numbers to make the 26th edition of the GTE a huge success. Industry leaders including G S Madan, M D, Madan Trading Company, Delhi; domestic brand and manufacturer Harjot Takkar, Director, Sahib Textiles (Tacfab), Sonepat; Consultant Pooja Makhija, Director, Fashion Futures, Delhi; and pattern services provider Shri Niwas Sharma, Director, Apparel Solutions, Delhi were present.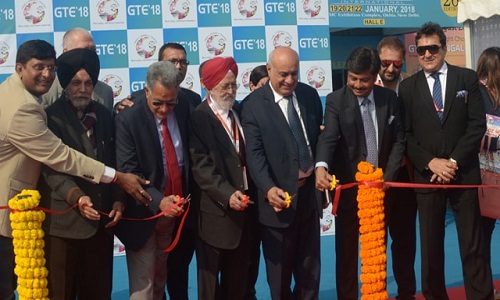 G S Madan explored automation in all segments from cutting to stitching and finishing, "As the industry is still on oxygen, the only way to survive is to adopt automation as much as possible so that we can reduce workforce and minimise cost," he observed.
Technical and PD teams of various companies also shared upcoming developments. Nikita Gupta, Merchandise Manager, Sreepriya Exports, Kolkata opined her company is installing CAD systems and has recently started working on the lean project to boost efficiency. The key attraction at the fair was technology, the display of machine-to-machine communication systems powered by several tech companies like Juki, Jack, Hikari, Duerkopp Adler and Brother.
The display of Pick and Place heat seal machine by Cheran was much appreciated. The machine reduces the time of tag attachment in the garment by replacing conventional stitching with automatic sticker attachment. 'Shirt Automation' by Italian pioneer MAICA drew crowds at its stall. MAICA displayed 'UAM 04', an automatic placket attachment machine.
Digital printing was showcased by India-based ColorJet, which presented digital printer TXF at the fair. The printer offers speed of up to 24 sq. mt. per hour and can achieve print resolutions of up to 1,440 DPI. The company has ambitious plans in place to expand in apparel manufacturing hubs like Bangladesh and Vietnam. And as Smarth Bansal, Brand Manager, Colorjet points explained, "India is already our stronghold and now we are looking to capitalise on the lucrative opportunities in other emerging countries. We are looking to collaborate with local partners, especially in Vietnam."