Global clothing industry is going through a long-term structural decline with growing awareness among consumers and limiting purchases, even as prices fall. This is destabilising the future of many global companies whose USP is fast-changing and affordable fashion.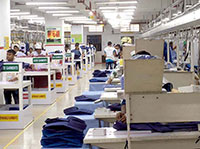 Fast-fashion retailers are waking up to a changed global fashion scenario as the make-buy-trash culture is rapidly giving way to heightened environmental concerns. Big brands producing clothes in large batches may save money both for the company and consumer but it creates environmental waste. The clothing industry is responsible for about 10 per cent of global greenhouse gases and consumes more energy than aviation and shipping combined. The old concept of encouraging shoppers to buy rapidly as trends change where olds clothes either stockpile or find their way to landfills is now changing.
A saturated consumer market
With higher disposable incomes and focus on staying on-trend, consumers already own so many clothes that new purchase doesn't quite spark happiness. Morgan Stanley analysts feel the apparel market has saturated and is on a structural decline mode, as people are over buying. Leading apparel retailers like H&M, Inditex, Gap, Macy's, Kohl's, American Eagle and Abercombie & Fitch are overvalued and don't know how to find their way out of a financial mess. Some like H&M are offering customers vouchers if they return clothing for recycling and launching new collections using sustainable materials.
With clothing becoming affordable and easily available, consumers keep buying with no concept of buying for special occasions. A consumer in the US is likely to purchase around 65 items and a UK consumer around 50 items a year. In Australia, the average consumer buys 27 kilos of new textiles annually and accounts for 23 kilos of textile waste that goes to landfills. Australian consumers are being encouraged to donate past purchases to charities every time they buy new clothing to help reduce the 311,040 tonnes waste generated each year.
Morgan Stanley suggests Austrian economist Carl Menger's Law of Diminishing Marginal Utility is also to blame as buying too many clothes is leading to little marginal utility or pleasure of buying more. "If volumes have plateaued (or begun to fall) and average selling prices continue to decline, the value of clothing sales will fall too. It is our contention, therefore, that the apparel markets in many developed countries may now be entering a lengthy period of structural decline," opine Morgan Stanley analysts Geoff Ruddell, Kimberly Greenberger and Maki Shinozaki.
Fast- fashion retailers hit big-time
Swedish fast-fashion giant H&M is facing profitability issues having to close stores globally. It recently alarmed investors by reporting $4.3 billion worth inventory on hand which was still increasing, indicating it was producing more than it could sell. H&M had to offer more discounts on older styles to get rid of the excess the same time, having to stock up new styles.
Meanwhile H&M, the world's second-largest clothing manufacturer behind Inditex's Zara, announced the closure of 160 stores. It was hit hard in mid-2018, after accumulating more than $4 billion unsold inventory, forcing significant discounting to clear old goods. H&M is also facing great competition from rival Zara, with more fashionable offerings, at a little more expensive pricing. Meanwhile, Japan's brand Uniqlo, the third biggest player in the US is making significant strides with its core of "timeless basics" along with plans for massive growth in Asia. Other fast-fashion retailers like Charlotte Russe are also going the same way, having filed for bankruptcy. With initial plans on closing about 20 per cent of store, the company could end up liquidating if it can't find an investor to keep the business going.
Experts feel the world's leading dozen listed apparel retailers have, on average, seen earnings downgrades almost 40 per cent since the beginning of 2016. This, when combined with the ongoing challenges posed by online channel shift, could make for a difficult backdrop for the apparel retail industry, not just now but in future as well. This structural shift has been going on for the last approximately 20 years, with a gradual shift, yet it is only in the last three to four years that clothing retailers have begun to find trading conditions so challenging.
The industry is undergoing a long-term structural decline as consumers feel their cupboards are spilling out and are limiting their purchases, even as prices fall. The way forward for many global companies whose basic USP is fast-changing and affordable fashion remains uncertain.
Fast changing fashion sensibilities affects market
Both mega retailers like H&M and Zara are facing competition from New Age online-centric players beating everyone at their own game. These brands like ASOS, Boohoo and Misguided in the UK, are building followings by cutting down supply chains to bring out a new fashion portfolio in a week and delivering them promptly. Since it's the young people who follow fast fashion mainly, the idea of wearing something straight off the ramps, even before it hits the stores, is appealing. Trends are changing from a top-down fashion evolution, dictated by manufacturers and fashion periodicals, to a bottom-up percolation, driven by social media and personal expression. Consumers are now focussing on their own, unique personal styles and they like it now and they like it hot.
With saturation point being reached in fast fashion, there is evidence of movement by consumers of all ages and demographics toward investing in fewer but higher-quality basics that can be mixed, matched and re-worn, even with the addition of some great vintage accessories. Indeed significant changes are underway—away from what's trending and toward what's stylish. Consumers have been buying clothes more and the last two decades as most fast-fashion retailers such as H&M and Zara and budget retailers including Primark and Walmart have cut prices after shifting production to Asia.
Most global apparel retailers have seen their earnings drop almost 40 per cent since the beginning of 2016 and it's going down even further. Small brands are moving to online channels which make it challenging for apparel retailers who are dependent on footfalls in swanky malls and offline sales. Many fast fashion brands like Fashion Nova are disrupting sales targets of other brands, by promoting themselves as a digital-first brand utilizing a social strategy, powered by Instagram. By introducing around 600 to 900 new pieces per week, Fashion Nova now has more than 14 million social media followers, and in 2017, it was one of the most Googled brands in the world.
Environmental concerns affecting frenzied buying
Fast fashion has been responsible for varying levels of environmental pollution. The cycle of buy, wear a few times and bag it for the dustbins is now impacting landfills. Experts feel many people, especially from the more affluent economic segment are now more open to paying higher for products that are sustainable. With clothing volumes plateauing in developed countries, apparel markets can only grow, if prices go up. But as production continues to shift from China to lower-cost countries in Asia, prices will continue to fall. Consumers are becoming reluctant to buy new clothes as the internet makes them more aware. Recycling clothes by donating to charities, putting in recycling bins or passing onto friends and family is catching on big-time but yet to make an actual impact on sales figures of affordable fashion brands.
While all New Age high-tech sustainable fabrics are a wonderful but it's also expensive and cannot be afforded by everyone. There will be some basic consumer behavior change where people will stop mindlessly buying new clothes and matching accessories. Re-wearing garment styles in different ways and renting out for special occasions will become cooler. Overproduction and overconsumption of fashion, fuelled by cheap global markets and materials earlier and went haywire in the 2000s, will then just be a storm in a teacup, which will be evened out by a new generation.