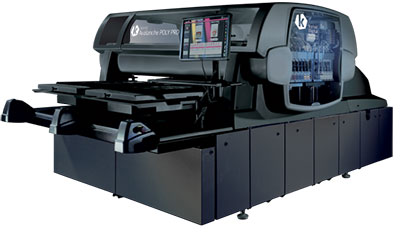 Tokyo-based Image Magic has expanded its longstanding digital direct-to-garment capabilities by installing two Kornit Avalanche Poly Pro systems. The move supplements Image Magic's continuous development of internal efficiencies, and increases its capacity for an operation that has observed 40 per cent year-over-year growth.
Using the eco-friendly NeoPigment™ Olympia ink set, Kornit Avalanche Poly Pro was developed to extend digital design complexity, color gamut, and durability to polyesters, which have grown in popularity as a result of sportswear and 'athleisure' trends. It is the first digital direct-to-garment print system developed specifically for such materials.
Kornit Digital develops, manufactures and markets such industrial digital printing technologies for the garment, apparel and textile industries. The company delivers complete solutions, including digital printing systems, inks, consumables, software and after-sales support. It caters directly to the changing needs of the textile printing value chain. Kornit's technology enables innovative business models based on web-to-print, on-demand and mass customisation concepts. With its immense experience in the direct-to-garment market, Kornit also offers a revolutionary approach to the roll-to-roll textile printing industry: The brand serves a mix of corporate clients, including some of Japan's leading apparel brands, and general consumers via a predominantly internet-based sales model.