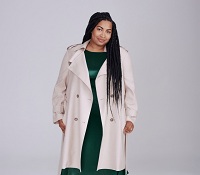 Roughly 67 per cent of women in America are size 14 or larger. Yet, the standard to define 'plus size fashion' in the country is unclear. As per market research firm NPD Group, most American retailers define plus size as size 18 and above. However, most companies and brands issue their own size guidelines. Some companies also include sizes 14 and above into their portfolio. They also include tall plus, petite plus and juniors plus categories in their collection, which have special size requirements of their own.
Lack of size evolution and availability hampers market growth
Plus size market accounted for almost 19 per cent of the entire US women's $113.8 billion apparel sales during
the 12 months ending May 2021. The market offers limited clothing options, says Lauren Chan, Founder, Henning. Brands and companies design plus-size clothes on the basis of previous shopping habits of consumers. They fail to realize that shopping patterns evolve in plus sizes just as they do in smaller sizes, adds Cece Olisa, Co-founder, The Curvyon, an annual shopping event for plus size shoppers.
In April, designer Lena Dunham unveiled her five-piece women's ready-to-wear collection starting at size 12 in collaboration with 11 Honoré. However, many brands and retailers fail to include larger sizes. Owned by private equity firm Sycamore Partners, Loft began selling plus sizes only in 2018. Many retailers who earlier offered plus-size fashion closed shop during the pandemic.
According to Joanna Griffits, Founder and CEO, Krix, many brands enter the plus size market. However, they soon quit as things don't go according to plans. Another issue plus size fashion faces is the availability of plus size clothes. Most plus size garments are available only online, making it difficult for shoppers to try them before buying. Also fashion schools don't teach designers to make plus-size designs. New York City's Fashion Institute of Technology offers a class called 'Production Pattern Development for Women's Plus-sizes, teaching future designers how to "gain a better understanding of the important areas of the body that present a challenge when developing styles," says the course description.
The torch-bearers
Some brands are like Athleta, Dia & Co and PSK Collective are now taking active steps to include plus-size consumers. Lingerie brand ThirdLove offers bras and underwear in a wide range of sizes. Activewear brands like Superfit Hero have removed traditional numerical sizes or size sections from their shelves. The brand, which earlier sold sizes XS through 5XL when it was launched, has shifted to sizes large to 7XL last year.
The use of plus-size models has also increased in recent years. However, they are mostly used by brands as a marketing strategy, adds, Nadia Boujarwah, Co-Founder and CEO, Dia & Co.
New initiatives to meet shoppers' demands
The needs of plus size shoppers also vary according to their sizes. A tall plus-size shopper has vastly different needs than a petite plus-size shopper. To cater to diverse needs brands like Good American use algorithms on their website to show shoppers models in their past purchases. However, some brands are skeptical of such methods as they would need to consult consumers rather than data before launching their collections.
A way brands can accommodate the needs of plus-size consumers is by hiring more plus-size people, opines Olisa. Their websites need to show clothes different size models, adds Chan. Brands also need to stand up for issues faced by plus size shoppers like fat shaming. Taking a step in this direction, Nike introduced plus-size mannequins in 2019. Others are likely to soon follow suit.