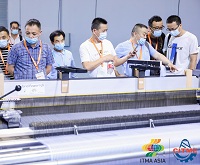 The better than expected exhibitor response to ITMA Asia + CITME 2020 is an indication of the robust growth of Chinese textile machinery market. The exhibition which took off today and will last till June 16, 2021, is showcasing 1,237 exhibitors from 20 countries and regions. Ernesto Maurer, President, CEMATEX, says, the response to the combined exhibition seals its reputation as the leading-edge business platform in Asia for textile machinery. The exhibition is being organized by Beijing Textile Machinery International Exhibition and co-organized by ITMA Service.
China's dominance continues with major exhibitors
China continues to be largest exhibitor at ITMA ASIA+CITME 2020 with over 1,000 exhibitors showcasing their products on
56,000 sq. mt. net exhibit space. Major Chinese exhibitors include: CHTC, Fong's, Ningbo Cixing, Wuxi Hongyuan, Hangzhou Honghua, Jiangsu Yingyou Textile Machinery and Changshu Textile Machinery.
After China, CEMATEX territories dominate with 170 exhibitors. Together they exhibitors occupy 13 per cent of the net exhibition space totaling over 9,200 sq. mt. From these territories, Germany and Italy are the two of the largest exhibitors with 57 exhibitors from Germany and 63 from Italy. The German pavilion spans 3,700 sq. mt. while the Italian pavilion spreads over 2,500 sq.mt. The third largest group of exhibitors at ITMA ASIA+CITME 2020 is from Japan, occupying over 2,200 sq. mt. net space. Japanese participation is coordinated by the Japan Textile Machinery Association, a strategic partner of the combined show.
ITMA ASIA + CITME 2020 features leading names from Europe and Japan like: Automatex Solution, Fil Control, Groz-Beckert, Itema, Jeanologia, Karl Mayer, MS Printing Solutions, Meech International, Muratec, Oerlikon Barmag, Picanol, Reggiani Macchine, Rieter, Santoni, Saurer, Savio, Shima Seiki, Staubli, Toyota, Tsudakoma, Vandewiele and Vanwyk. The products on display include: spinning machines which make up 25 per cent of all products displayed followed by finishing machines with 24 per cent of product category. Knitting machinery at 13 per cent, weaving machines 12 per cent and printing machines 8 per cent form the remaining exhibits at the trade show.
Universities in Research and Innovation Zone
A major attraction is the Research and Innovation zone which features 11 local universities and colleges. Some universities being featured are: Donghua University, Jiangnan University, Qingdao University, Tianjin University of Technology, Wuhan Textile University, Xi'an University of Technology, Zhejiang University of Technology and other institutions.
The extensive promotions carried out by the organizers via online and offline channels are expected to boost visitor turnout. Over 400 local textile and garment manufacturers' associations and their members are expected to visit the exhibition which is also being supported by over 100 media partners from around the world.
Building long term business relations
In view of the ongoing pandemic, organizers are implementing safety measures to ensure participants' safety. They are conducing mandatory temperature checks and strict badge verification with facial recognition at hall entry. Visitors are also being advised to observe social distancing. The exhibition is instrumental in uplifting the textile industry in China and Asia. It allows companies to reconnect face-to-face with clients and build long term business relationships, adds Wang Shutian, Honorary President, China Textile Machinery Association (CTMA).