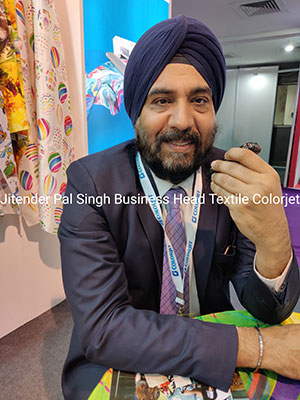 A 25-year old company, Colorjet is involved in manufacturing digital printing machines. The company makes signage and textile printers. "Our machines minimise environment pressure by running on a reactive ink and consuming 25 per cent less water. Also, they need less air-conditioning which lowers carbo emissions and footprint," says Jitender Pal Singh, Business Head-Textile Division, Colorjet.
Having a 70 percent share in the sale of textile printing products in India, Colorjet serves global customers. "We not only build our own machines but also design and develop them. Their production speed is 3,000 meters a day," notes Singh. "Our customers cater to both domestic and export markets. Most of them are plain service providers who do job work for printing. A few customers have their in house brands," he adds.
Colorjet has dealers and distributors in key countries. "We have teams in India and Dubai. Our production facilities are spread across the country. In the west, we are located in Surat and Mumbai; while in the north we are available in Delhi NCR and Punjab. We also operate in the South and East and all other major digital textile printing areas," elaborates Singh.
Internationally, Colorjet operates in countries such as Greece, Dubai, Pakistan, Bangladesh, Sri Lanka, China, Spain. "We now plan to expand to Turkey, Indonesia, Thailand, Brazil," he adds. Elaborating on the digital printing scenario in India, Singh says, "Almost 90 percent of the digital printing in India is done for apparel. The remaining ten percent is for home furnishing. Globally it is the same ratio, 85 to 15," states Singh.
Besides offering direct to fabric and sublimation machines for the apparel industry, Colorjet also offer machines for reactive ring, dispersing. "Usually digital printing is done on 1.8 meters and 3.2 meters. We offer machines for both segments," adds Singh.
Singh reveals that digital textile printing comprises less than five percent of total textile printing. Despite this, the company's business is growing as customers are shifting from conventional printing technology to digital printing technology. "This technology has low operating costs and is low maintenance. It also shortens job runs," adds Singh Increasing strain on spinning, weaving and big process houses is driving people to digital printing as they look for pigment solutions. And Colorjet offers them good pigment solutions for a water crisis.