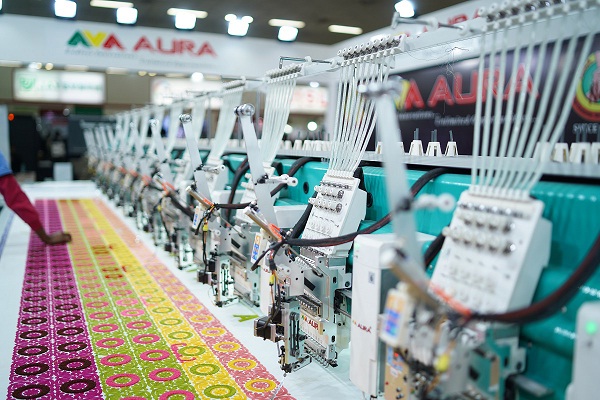 Upcoming Gartex Texprocess 2022 fair to be held from May 12-14, 2022 at the Jio World Convention Centre, Mumbai will highlight advanced and sustainable garment manufacturing technologies in India. The fair being jointly organized by Messe Frankfurt India and MEX Exhibitions will display innovative products showcased by 120 exhibitors. An exclusive one-day conference, Denim Talks will highlight latest digital manufacturing and bio dyeing techniques. Denim Show, Fabric & Trims Show and Screen Print India will be also be held simultaneously with Gartex Texprocess. Together, the three fairs will showcase innovations in textile and garment making machinery, denim, trimmings and screen-printing verticals.
Popular brands make a presence
The fair will be attended by popular brands including: Baba Textile Machinery (India), Balaji Sewing Machine, Cotton Council International, EH Turel & Company, Felix Schoeller, Gayatritex Engineers etc. Design studios, fashion designers and merchandisers, trade body representatives, distributors, machinery importers, wholesalers et al will also be there. The fairs are being supported by industry bodies including Apparel Export Promotion Council (AEPC), Retailers Association of India (RAI), Denim Manufacturers' Association (DMA) and the Gujarat Garment Manufacturers' Association (GGMA).
Vijoy Kumar Singh, Additional Secretary, Ministry of Textiles, Government of India points out, the textile industry is dependent on imported machines, the industry needs to step up manufacturing in the country. The Ministry of Textiles is formulating a scheme to incentivize textile machinery production in India. The scheme will not just incentivize local innovation but also encourage reputed international manufacturers to set up bases in the local market, he adds.
Machines on display
The fair will showcase some state-of-the-art machines for textile and garment industry including the Go Green machine by Ramsons. This machine is extremely efficient in achieving wet processing of garments in a sustainable manner. TS 1800 Digital Thread Dyeing System by Orange-O-Tec that dyes thread in millions of colors on demand with precision will also be on display. Textile manufacturer Mehala will showcase The Procut 1800, a highly precise automatic cutter for large quantities of apparel from Bullmer. Similarly, Bruce will display the R6000 digital feeding smart lockstitch machine.
Focus on sustainable denim trends
Denim Show 2022 being held simultaneously will showcase innovative, fashionable and sustainable denim trends. The show supported by Denim Manufacturers' Association will reunite India's biggest denim brands and mills under one platform. Hyosung India, Jindal Worldwide, Arvind, Ginni International, Raymond UCO Denim, Bhaskar Denim, LNJ Denim, Oswal Denims, KG Denim, Nandan Denim, and Ashima Group are lining up latest denim collections for the exhibition.
Scheduled on May 13, 'Denim Talks' series will discuss topics like flash dyeing of indigo, digital manufacturing and bio dyeing and sustainability initiative by Levi Strauss. This one day conference will highlight sustainability initiatives and innovations in denim manufacturing.
Making the right choice
Fabrics & Trims show will highlight the importance of selecting right fabric, styling, embellishments and manufacturing processes to create apparels of the future. It will feature fabrics, trimmings, embellishments and accessories.
Innovations in digital screen printing
Screen Print India 2022 will bring forth technologies in digital textile and screen-printing. Leading brands will showcase their innovative screen printing, digital sublimation, heat transfer, textile printing, and garment decoration techniques. Among the exhibitors are: Dhaval Color Chem, Konica Minolta, Skyscreen International, Stovec Industries, Epson India, etc. They will offer textile, garment and screen-printing industry a comprehensive platform to discover new production technologies.