The 5th edition of GMMSA Expo India 2020, organised by Garments Machinery Manufacturers and Suppliers Association (GMMSA), was held from January 03-06, 2020 at Ludhiana.Narinder International, one of the major machinery suppliers from Ludhiana, was a major participant at the expo. Narinder Kumar, Director of the company reveals about the products launched by the company at the expo and the current industry scenario.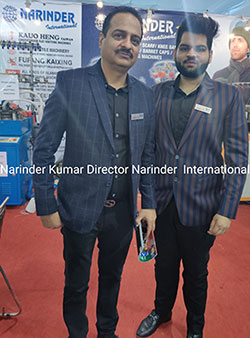 One of the major participants at the GMMSA expo, Narinder International is one of the major machinery suppliers from Ludhiana. The company manufactures and supplies a wide range of machinery like the flat knit machines, circular knit machines and accessories like knee caps. "We are also involved in the upgradation of blankets and high pile fabrics," reveals Narinder Kumar, Director of the company.
This time at the expo, the company launched two new products; the super soft fur and the rabbit fur which is used for making car seats, carpets and curtains. "This is our fifth participation at the expo. The platform keeps us abreast of new technologies, machines and products launched across the world. This not only reduces our labor and production costs but also increases our efficiency and productivity," states Kumar further informing that last year over 20,000 people visited GMMSA.
Heavy expenditure, secondhand machines pose challenges
Elaborating on the current industry scenario, Kumar says, "The knitting industry is doing very well in India as Chinese imports are declining. Our country is likely to emerge as one of the major machinery suppliers in the future."
Manufacturing machines is a cumbersome process as it involves heavy expenditure. "It is difficult to make spare parts, assemble and market them. A single person can't do this. The main machinery has to be made in one place after which people can give orders for making the spare parts. We then assemble these parts and start making the machines," adds Kumar.
Another big challenge is the flood of secondhand machines in the industry. As buying a second hand machine is cheaper than buying a new machines, it does not encourage local manufacturing in India. "However, the scenario is different in China. The country does not allow the import of second hand machines as there are many companies involved in assembling and manufacturing machines. Many others have also banned such imports," adds Kumar.