Ramp Impex was incepted in 2005. It's into testing instruments and serves many verticals. Textile has been Ramp Impex's forte. "We have currently 17 partners worldwide including China, US, Europe, Taiwan and Japan. The company has a mix of Indian and imported portfolio which cannot be matched by any other company in the country," says Puneet Rawal, Managing Director.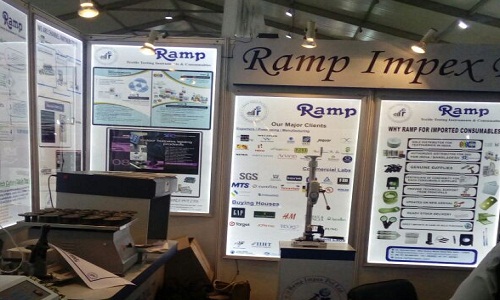 Rawal says they service customers as per their budget. The company has been diversifying and upgrading quality parameters, besides being a part of the global network, they are always updated in advance on the standards and protocols followed internationally. "The Indian market is small but promising. People now understand the importance of quality as it also contributes to productivity. Quality is an important parameter that enables one to sustain in the market. People also understand how easy it is to lose customers on the basis of quality issues. It adds to the cost factors, since margins have minimised and manufactures cannot afford any rejection in their products."
On India as a garmenting hub Rawal feels we have enough skilled manpower. As far as testing is concerned, India is a hub for South Asia. But we are way behind China, the US and Europe in testing standards. "Adaptability to quality standards is still low. People still have a mind-set that testing and laboratory machines are a liability rather than an asset. Indians look more at investing in production, but the trend is changing considering the seriousness with which Europeans and other developed countries follow quality norms."He says large industry houses are growing largely because they take testing solutions seriously. Today's buyer is smart and any deviation from quality norms may lead to a company sinking without a trace.
However, awareness about quality products is gradually increasing. People are becoming brand conscious. It is because brands ensure quality and that is what the end consumer is looking for. Brands push apparel manufacturers and this is how the entire cycle in the garmenting sector is running.
Rawal says "The domestic market is huge. Change in perception is making Indian manufacturers push themselves to match global standards. However, on the export front, we are struggling. Countries like China, Vietnam and Cambodia are doing well. We need a lot of governmental support to grow exports."
Ramp Impex has a tie up with 13 global brands. They have set up a new unit in Bawana Industrial area under the Make In India initiative. "As a company, we have grown and understood the technological aspects of our segment of operations which are at par with global players. We are also available in South Asia. We have been the first to put up a testing lab in Dubai," he observes.