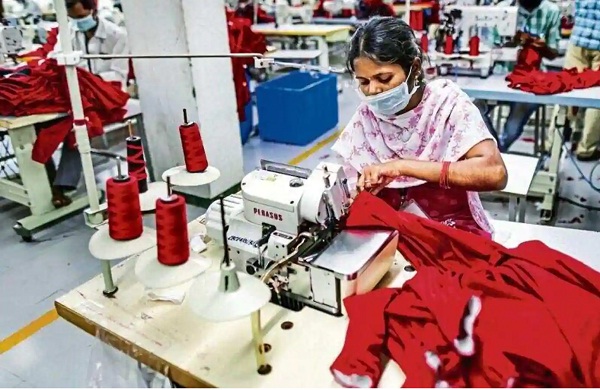 Reducing dependence on China, international brands have been diverting their orders to India since the last three years. Exporters in the Tiruppur cluster have received more orders leading to a $44 billion jump in textile exports in 2021-22, says Raja Shanmugham, Managing Director, Warshaw International. CRISIL Ratings projects, India's readymade garment exports will grow y 12-15 per cent this fiscal as customers across the world are diversifying their sourcing away from Sri Lanka and China.
Explore China Plus One strategy
Since 2020, global textile trade has been moving away from China due to the pandemic and supply chain disruptions. In December 2021, the US banned imports from Xinjiang. Other markets followed suit by adopting the 'China Plus One' strategy that encourages business with more countries.
India can leverage this opportunity by exploring the US, EU and UK markets that account for nearly half of its textile and apparel exports. The government can introduce policies to develop a business-friendly environment in the country and best-in-class infrastructure to attract more investments, recommends a report tabled by the Standing Committee on Commerce on Budget. The report also recommends the government to sign new Free or Preferential Trade Agreements (FTA) or interim and mini trade agreements with countries that seek to invest in India under the 'China Plus One' strategy.
Target $65 billion exports by 2026
A CII-Kearney report titled, 'Creating a competitive advantage for India in the global textile and apparel industry' says, to achieve $100 billion textile and apparel exports by 2030, India needs to increase textile exports to $65 billion by 2026. Gautam Nair, Owner, Matrix Clothing, points out, China too has been losing share in the global apparel market due to an increase in increase minimum wages and labor shortages. However, the loss of business to China has not benefitted India as textile exporters have not been able to cash in on the opportunity.
Obstacles remain despite advantages
Despite this, India offers several advantages including an integrated market with enough raw material supplies, and new government initiatives to boost textile manufacturing including the MITRA and the PLI schemes. India has also initiated negotiations for a trade agreement with the UK. It plans to sign an FTA with EU to allow duty-free access to Indian textiles besides other agreements with moderate-sized markets such as Australia, Canada and Japan. However, it would be difficult for Indian companies to replace Chinese supplies, as banks hesitate to offer credit to small and medium textile units says Shanmugham. One reason for this is fragmented manufacturing of Indian companies in most parts of the value chain, adds Dhall. Also, the suboptimal investment-to-return ration in India is below the capital cost.
Shanmugham believes, the MITRA scheme could help India create large textile players. However, setting up a textile park in the country requires up to three years, around 1,000 acre and many clearances, he adds. India's high labor and power costs also make it exports more uncompetitive, affirms Nair. The government needs to restrict cotton and yarn exports by introducing quota systems and levying heavy duties.
As per an analysis by the CRISIL, India's working capital requirement will increase marginally this fiscal. Domestic as well as export demand will also remain healthy with RMG manufacturers having enough capacity to meet the expected surge, says the report.
India has an opportunity to lead industry growth. To explore it, textile manufacturers need to expand scale, improve production processes and delivery timelines.