The fashion industry is always on the lookout for the latest technologies to maximise efficiency in production. Every day, new techniques are discovered and tested to address issues such as sustainability and the future of apparel related processes. While 3D printing is nothing new in the fashion world, the vast majority of designers have yet to explore the techy side of the industry.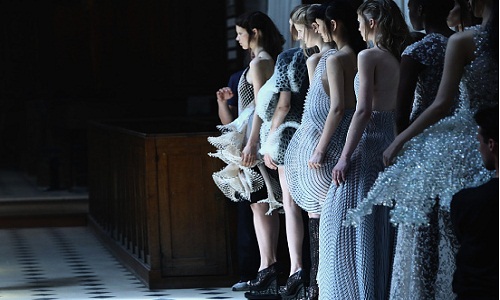 Perhaps the notion that couture could be printed from a machine throws some people off. But several designers have already dispelled any theories or misconceptions there might be on the subject, successfully adopting the technology and adding printers into their workrooms. One such designer is Iris van Herpen. Never one to go with the flow, the Dutch innovator was one of the first to use a 3D printer for her clothes, transforming her Amsterdam studio into something resembling a laboratory to bring her ideas to life. Contemporary dresses come in all silhouettes, fabrics and lengths, as shown in the cutting-edge frock collection on Lyst that showcases styles for every occasion, though none quite compare to her silicone-made "dragon skin," form-fitted and lined with cotton and silk. Van Herpen's creations earned her a spot in the coveted Metropolitan Museum of Art in New York, in a previous exhibition known as Manus x Machina: Fashion in an Age of Technology.
Someone else who has shown a vested interest in this sort of wearable tech is Israeli designer Noa Raviv, a former student at the Shenkar College of Engineering and Design. Fascinated by the broken patterns produced by computers that don't understand the inputted code, Raviv used that as a basis for the theme of her latest collection—tension between order and chaos. Her newest range is characterised by the looping lines and patterns incorporating Swarovski crystals.
Unlike van Herpen, her company only consists of one other person and is on the lookout for another, proving that you don't need a large team of scientists to work the machines. With no factories manufacturing her clothes, together with the "mistake prints" that lay the foundation of her items, the dresses she currently retails in LA boutique H. Lorenzo are 100 percent unique.
Because of the amount of time and dedication each piece takes, 3D printing will most likely remain a practice only seen in the luxury fashion industry for the time being, although we never know what we have in store for the future.