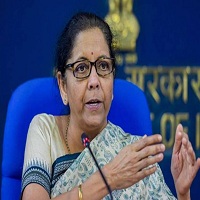 Smiles are back on the faces of textile industry leaders as the GST Council has unanimously deferred its proposed hike to GST rates on textiles. The GST rate hike on textiles from 5 to 12 per cent was to come into effect from January 1. The decision to defer the hike was made at the 46th meeting of the GST Council chaired by Nirmala Sitharaman, Finance Minister, citing higher compliance costs, particularly for the Micro, Small & Medium Industries, which may make common man's clothing costlier.
A timely move
The pre-budget meeting was attended by representatives from states like Gujarat, West Bengal, Delhi, Rajasthan and Tamil Nadu, who unanimously opposed the hike. "The move comes as a big relief for the industry and enables it to enter 2022 with great optimism," says Sanjay K Jain, Chairman, ICC National Textiles Committee and Past CITI Chairman. "The announcement has come in a nick of time as we had lost hope three days ago when the hike in GST rates was announced," he adds.
In its decision made on November 18, the Central Board of Indirect Taxes had announced a hike in GST rates
from the current 5 to 12 per cent. As a result, the rate on apparel costing Rs 1,000 was hiked from 5 per cent to 12 per cent. Rates on textiles, including woven fabrics, synthetic yarn, blankets, tents as well as accessories such as tablecloths or serviettes, were also increased from 5 per cent to 12 per cent.
Pressure on raw material prices
The move had met with opposition from all industry associations. Clothing Manufacturers Association of India (CMAI) condemned the move saying, it would impact the industry heavily by adding inflationary pressures on raw material prices, especially yarn, packaging materials prices, and freight costs. Heading to industry's demand, the GST Council finally rolled back its decision today. It will review its deferment in the council's next meeting in February.