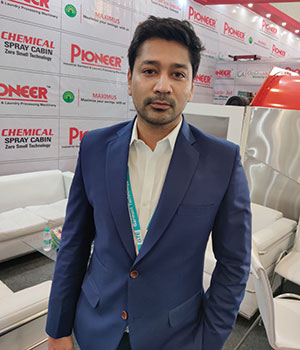 A totally indigenous company, Pioneer Udyog has been participating in the GTE exhibition for the last eight years. The company has gained recognition as the noteworthy manufacturer and supplier of an assorted range of laundry equipment, crinkle machine and dry cleaning machine. Molik Mahajan, Director elaborates on the company's operations.
"We cater to denim wear which evolves every day," says Mahajan. Earlier the segment included only casual wear. "However now, it also includes formal wear. Its colors are evolving too from the earlier fluorescent to current dark colors," he adds. Pioneer offer products for the medium scale industries while for the big units, it offers complete automation solutions.
Earlier, the industry focused only on making garments. Now, it focuses more on sustainability. "In compliance with the current environmental laws, brands are marketing their products as eco-friendly," says Mahajan. The products of Pioneer Udyog too aim to conserve, recycle and minimise water use. The company believes that recycling of water is easier and cost effective than before.
However, according to a new regulation, to recycle water, companies need to first measure the level of the ground water. "They need to install a water meter which is quite expensive. Hence, we encourage customers to reduce their water usage to save their money. Earlier, only big corporates invested their money in recyling. Now, even smaller units are planning to do so. Around ten to 15 percent have already invested in recycling. This figure is likely to increase significantly in the next few years," adds Mahajan.