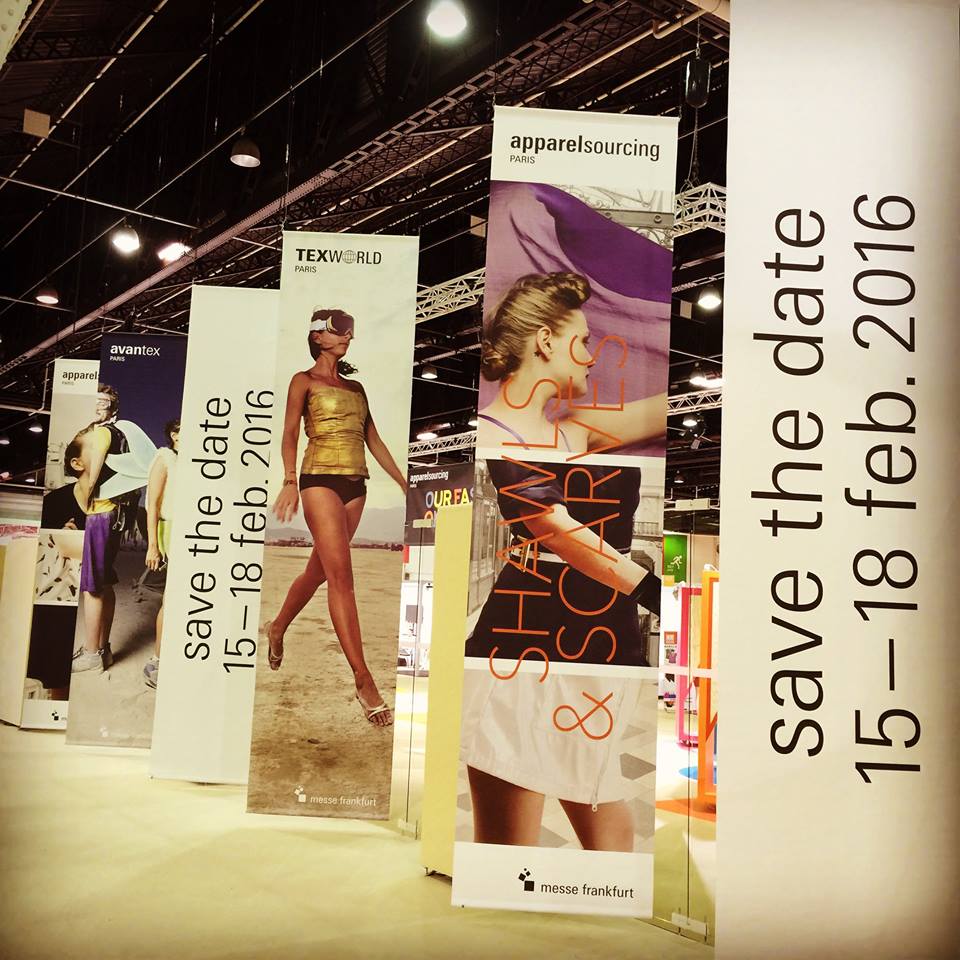 Visitors to Texworld Paris were surprised by its new layout and an expanded range of collections. The international trade fair for fabrics, sundries and accessories held at Le Bourget from September 14-17, 2015, consolidated its position as a global platform for purchasing materials and confirmed its attractiveness by placing creativity at the heart of its range of exhibitors.
13,075 visitors from 109 countries - the same as in September 2014 - made this 37th event generally steady, but with a slight increase in the number of visitors from the Americas in particular. Fluctuations in rates of exchange disadvantageous to Europe and economic crises undoubtedly played a part, but, as many exhibitors said, many American buyers could not attend due to religious holidays.
Considerable rise in French visitors
Michael Scherpe, CEO of Messe Frankfurt France, commented, "I noticed a significant rise in the number of French visitors in February 2015. This has persisted this time round, because France is becoming the leading country of origin of our visitors, with a marked rise of almost 12 per cent. I am delighted that Texworld Paris' offer meets the expectations of French buyers in every respect, all the more so because we have applied much more rigorous selection criteria, which have brought about an expansion in the range of exhibitors' offers, particularly in respect of creativity, style and aesthetics, in perfect harmony with current trends and "western" tastes."
Messe Frankfurt France took over halls 2 and 4 at the Le Bourget Exhibition Centre, staging a new concept. Much more open stands, easier movement through the aisles and clearer, more evident division allowed visitors to refine their search for exhibitors whilst still making new discoveries. The new layout was greatly appreciated not only by visitors, but also by exhibitors.
Pankaj Srivastana, General Manager of Shahi Exports, said, "Texworld Paris is really well organised. It was very easy for us to locate good products and new suppliers. Even our most recent fashion requirements were met." Added Gijsbertha Dancery, an independent materials buyer, "I come especially to see the latest trends, but this time I found the fair very welcoming. Far more open stands are very hospitable. They tempt us far more to discover the collections."
First time visitor, Dhanarat, Managing Partner at VGS Exports, said "Texworld Paris has proved an excellent trade fair for purchasing. What I like is that you can find fabrics for garments and accessories under one roof. I shall be back next time."
Except Russia, fair saw rise in international visitorsApart from France, which is taking over the lead in Europe, ahead of the UK and Spain, a pronounced increase in the number of professionals from Tunisia (38 per cent) and Morocco (18 per cent) was observed. Portugal, a major buyer of garments, confirmed this trend at 17 per cent, as did Romania, which was very much in evidence this time, at 51 per cent.
Problems associated with difficulties in relations between Europe and Russia were however felt to a great extent. Russian visitor numbers did not rally (-25 per cent). In contrast, Ukraine held its own at 51 per cent. Asia as a whole remained remarkably stable (1 per cent). Hong Kong registered a score of 48 per cent, underlining its craving for creative, top of the range products. The UAE were up 11 per cent and Australian visitors increased by 11 per cent. All three trade fairs maintained their international leadership in France, with 88 per cent of visitors coming from outside metropolitan France.
Overall business sentiment picking up
On the business front, "everything is going Ok" became the exhibitors' watchword at this event. It was the expression heard most frequently at the fair, from the opening onwards. The exhibitors were happy to see many existing clients and also to observe a previously unseen interest in their collections from new buyers. Messe Frankfurt France's adoption of a policy of selecting exhibitors by stricter criteria, particularly their satisfaction of trending fashion criteria, has borne fruit. Visitors were genuinely able to experience an expansion in the range of exhibitors' offers.
This was particularly underlined by the success of two aspects of Texworld Paris - steadily-increasing interest in the small order itinerary, featuring more than 150 exhibitors, offering to take orders for small quantities from fashion designers and niche businesses and interest in ecological and/or fair-trade fabrics were well highlighted by the trends in 'My Sustainable Forum', in collections by around thirty established exhibitors, but also in the general offer, which saw fibres such as linen and hemp flourish. It should be added that there was sustained interest in technical, intelligent fabrics with new functions at the first-ever Avantex trade fair, held within the framework of Texworld Paris.
The programme of daily presentations appealed to the audience and those dedicated to world fashion trends were packed out. On Wednesday, September 15, 2015, Texworld Paris welcomed Xu Ying Xin, the Executive Vice-President of CCPIT-Tex, the Chinese Textile Industry Chamber of Commerce, to discuss the current state of the industry in the light of China's recent economic history. Next edition of Texworld Paris will be held February 15 to 18, 2016.
www.texworld.messefrankfurt.com