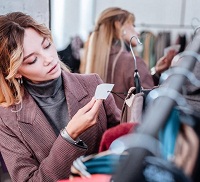 The pandemic and resultant lockdowns have pressured the global apparel index with prices rising almost 4.9 per cent in June 2021 compared to corresponding month last year. As per a report by retail intelligence company Edited, prices of children's clothes have seen a steeper rise with boys' apparels surging 5.5 per cent and girls' rising 5.6 per cent. Prices of kids' shoes have also increased 5.7 per cent.
The greatest hike has been in the prices of men's pants, women's dresses and outerwear, says a Forbes report. Prices of men's pants have risen 11.1 per cent while those of women's dresses have jumped 15.8 per cent. Prices of winter coats have gone up 8.4 per cent. In terms of styles, demand for casual wear and athleisure wear has surged while formal and office wear have seen a fall, says Kayla Marc, Market Analyst, Edited. In athleisure, there is growing demand for men's hoodies, sweaters, sweatshirts, sweatpants and T-shirts while in the women's category, demand for loungewear including cardigans, sweaters and sweatpants has surged. In footwear, prices of both men's and women's boots have risen.
Compared to 2019, fashion retailers' sales grew 7.4 per cent to reach $130.9 billion from January through June 2021. However, retailers are not too
concerned over this hike as it would have minimal effect on demand, says Terry Lundgren, Former Executive Chairman, Macy's
Retailers struggle with tariff, supply chain issues
Steve Lamar, President and CEO, American Apparel and Footwear Association believes, the current shipping crisis on top of oppressive tariffs on apparel, footwear and fashion could prove to be a double whammy for the fashion industry. His association is urging the Biden government to remove tariffs and help maritime industry overcome the shipping crisis.
Retailers have also been struggling with supply chain issues for some time now, says Natalie Kotlyar, National Practice Leader-Retail and Consumer Products, BDO. They need a reliable and resilient supply chain to provide the right product to consumers, she adds. Another issue that plagues retailers is absorbing rising production costs into their supply chains. They are also struggling to meet customers' demands.
Price adjustments can boost margins
Fashion retailers need to consider the impact of price rise on consumers' already burdened with escalating costs of other items like food, opines Kotlyar. Luxury brands need to adjust their prices as per need. Fast fashion retailers with lower price points will benefit from the tightening market situation. However, the price-rise may not translate into higher profit margins as product costs are expected to remain higher, warns Kotlyar. This will keep the fashion market challenged.