The global denim industry is estimated to be worth $64.1 billion by 2020. Currently, about 1.8 billion pairs of denim trousers worth $51 billion are sold annually worldwide. Denim has become a wardrobe staple across much of the world today, cutting across class, gender, and age barriers. Though Europe and the US are still the biggest markets for denims, emerging economies like China and India are witnessing a steady rise in demand. Bangladesh is not far behind. The global denim industry is estimated to be worth $64.1 billion by 2020. Currently, about 1.8 billion pairs of denim trousers worth $51 billion are sold annually worldwide.
Denim, the market still holds strong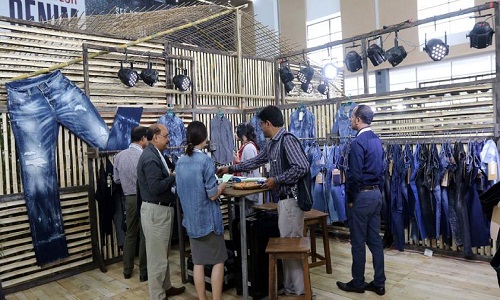 In countries like Bangladesh, the denim-wear market is driven by increasing disposable incomes, Westernization of work culture, and ensuing rise in popularity of denims as business casual wear. In fact, the use of denim is on the rise across different platforms, including accessories, furnishings, and Indo-Western wears.
As per global industry estimates, North America is still the dominant market for the fabric, with an average American owning up to eight pairs of jeans. Europe is the second largest market, followed by Korea and Japan. In keeping with the high demand of fabric in the West, most fashion houses emerged in America and Europe. However, owing to the rising labour costs and environmental concerns of the industrial washing process that is essential for making jeans, the manufacturing of the cloth has been traditionally outsourced overseas.
Interestingly, less than 2 per cent of the denims sold in America are manufactured in the US. Initially, the US outsourced denim manufacturing to Mexico while western European countries, including Italy and France, outsourced it to East European nations like Turkey and Tunisia.
As labour costs shot up in these regions, the outsourcing was shifted to Asian countries like China. In recent times, however, owing to rising manufacturing costs, China's hold as a dominant market player seems to be slipping. As a result, the rest of the Asian and Latin American countries, which are also known for their denim-manufacturing capacities, stand to benefit immensely. Among them is Bangladesh.
Advantage Bangladesh
Bangladesh denim industry currently comprises 26 factories with a total investment of over $834 million, according to the fourth edition brochure of the Bangladesh Denim Expo (BDE). The monthly production of denim stands at 30 million yards while the actual demand has nearly reached 60 million yards, it says. To cover this gap, the country imports 30 to 35 million yards per month worth $75 million from countries like China, India, and Pakistan, it adds.
As per Bangladesh Textile Mills Association (BTMA) data, the investment in the denim sub-sector stands at $900 million. In 2015, Bangladesh held 22.88 per cent market share in the EU and 11.35 per cent in the US denim markets, especially in jeans. Currently, about 1.8 billion pairs of denim trousers worth $51 billion are sold worldwide annually.
The country has occupied the third position in the US denim market for the last couple of years and exported denim products worth $418.42 million in 2014. Bangladesh is the second-largest contributor to the EU denim market. It shipped denim products - especially jeans - worth EUR 932.86 million to the region in 2014, marking a growth of 15.53 per cent.
Global market for denim is predicted to reach $64.1 billion by 2020. In 2013–2014, the exports of denim products to the US and EU markets rose by roughly 25 per cent, and increase every day. The worldwide denim production adds up to approximately 7 billion metres, of which 70 per cent is being produced in Asia, said the BDE fourth edition brochure.
Thus, the future of Bangladesh's denim industry looks bright. To meet the growing international demand for the fabric, local mills are investing in imported state-of-the-art machinery, especially for weaving and processing.
Bangladesh Denim Expo
The ongoing Bangladesh Denim Expo offers international fashion buyers a one-stop sourcing platform for all aspects of denim wear. Exclusive to authorised trade visitors, the expo acts as a hub where international market players can mingle with colleagues, make new contacts, and broker deals. A total of 49 companies from 13 countries will be participating in the exhibition including, Brazil, China, Germany, India, Italy, Japan, Pakistan, Singapore, Spain, Thailand, Turkey, and Vietnam, apart from Bangladesh. The Expo's host Chittagong-based Denim Expert, is expects around 4,000 visitors and nearly 900 companies at the flagship annual event.
The organisers expect this year's expo to showcase the most innovative trends and techniques that would rule the denim world for the next seasons. Six seminars will be held on important issues like the current trends in the denim industry and Bangladesh's prospect in the industry over the next five years. Industry experts will share their experiences and make recommendations for improving the denim industries here.