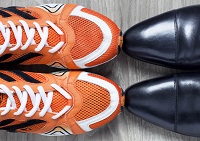 It's common to see people wearing suit with casual shoes, leggings with heels, or yoga pants at work. Growing interest in health, recycling and environmental protection is compelling consumers to mix sports and fashion and create new style trends. Sportswear brands are adapting to this new reality by combining technical features and design with a new sports aesthetic or 'athleisure'. Brands are segregating their products according to customers' needs. They are also segmenting sales on the basis of consumers' growing in interest in healthy living and well-being.
The biggest market for sportswear in the world is the United States while Germany is the biggest sportswear market in Europe followed by France, Spain, Italy, and the United Kingdom. France and Italy are Europe's largest athlesiure markets while Japan is frequently visited by design teams from major brands across the world.
Creating new looks for every season
To succeed in these new growing markets, sportswear companies need to align their business with new values. They need to create more athleisure trends for both men and
women of all ages. They also need to keep an eye on millennials, who in five years will account for nearly 50 per cent of the workforce.
Another challenge for sportswear brands is to create attractive looks for each season. The sportswear trend is currently being driven by specialized personal shoppers only in the US. However, growth will finally be determined by global affluent consumers who will ultimately decide whether a look is good. For such customers, brands need to combine their luxury sportswear with expensive technical items from good brands.
Sportswear brands also need to maintain their identity to sustain longer in the market. They should be well-aware of customers' choices and emphasize on personalizing their products. They should explore innovative designs and materials to attract customers.
Managing limited editions like resale
The trend of launching limited edition collections was started in 1980 by American brands. Since then, the trend has spread across the globe with many sportswear brands launching limited editions targeting sneakerheads. Some of these top brands have also opened stores specializing in limited-edition products.
As limited editions collections symbolize the status and exclusivity of sportswear brands, the industry must manage this rising phenomenon like a resale business. It should resell limited-edition collections by adverting about them on the social media and through well known personalities. Sportwear brands must also be careful while segmenting products. They should separate each group of customers to offer right items. They should also introduce a sales model where each sell products associated with consumer profile.
Brands must be careful to ensure the sustainability of business. They should be attentive to demand but should not lose their roots. They should let their customers decide whether they want to buy purely technical sportswear or trendy garments that can be mixed and matched for a fashionable look.