The growth curve of global ethical fashion market risen to touch $6,345.3 million in 2019, increasing at a compound annual growth rate (CAGR) of 8.7 per cent from 2015. Growing further, the market is expected to be worth $8,246.1 million in 2023 at a CAGR of 6.8 per cent, states a report 'Ethical Fashion Market Global Opportunities and Strategies to 2030: COVID-19 Growth and Change' by ResearchandMarkets.com.
Growing awareness boosts ethical fashion market
The market for ethical fashion has got a boost with growing awareness about sustainability. The study forecasts, the market is expected to be worth $8,246.1 million in 2023 and further grow to $9,808.5 million in 2025 at a CAGR of 9.1 per cent. And by 2030 it will be worth $15,173.7 billion at a CAGR of 9.1 per cent.
Ethical fashion includes sale of apparels by organizations, sole traders or partnerships primarily engaged in designing, production, retail, and purchasing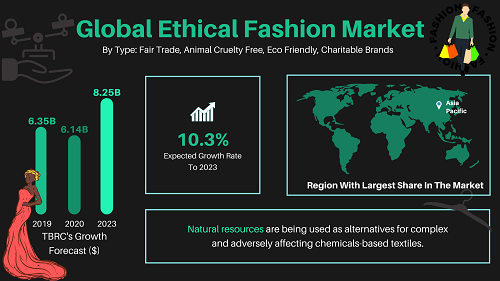 of ethical fashion apparels. It involves designing and making clothes while caring for people and communities involved in the process, and minimizing the impact on environment. It focuses on both the social and environmental impact of fashion, seeking to improve the working conditions and the environment. In fact, COVID-19 has given a huge flip to the ethical fashion market with growing consumer awareness.
The report highlights, rising awareness, social media, growth of e-commerce and government initiatives are expected to drive the market ahead. However, lack of standardization, reduction in free trade and impact of COVID-19 are major factors that could hinder the growth of the ethical fashion market in the future.
Organic to be the largest segment
The ethical fashion market is segmented based on products: organic, man-made/regenerated, recycled and natural. Among these, man-made/regenerated was the largest market segment based on product type, accounting for 54.5 per cent of total market in 2019. However, going forward, organic is expected to be the fastest growing with a CAGR of 16.2 per cent.
The market is also segmented based on fair trade, animal cruelty free, eco-friendly and charitable brands. In 2019, animal cruelty free was the largest segment by type, accounting for 43.9 per cent. But moving ahead eco-friendly is expected to be the fastest growing at a CAGR of 11.6 per cent. Ethical fashion is also segmented as: men, women and kids. In 2019, women's segment was the largest accounting for 54.3 per cent of total in 2019. However, in future men's segment is expected to be the fastest growing with CAGR of 10.2 per cent.
Asia Pacific the largest market
Asia Pacific was the largest region accounting for 32.7 per cent of total in 2019; followed by the Western Europe, North America and others. However, the reports suggests in future the fastest-growing regions in ethical fashion market will be Eastern Europe and South America, with at CAGR of 11.9 per cent and 11.4 per cent respectively. They will be followed by Asia Pacific and Africa, with CAGRs of 11.3 per cent and 11 per cent respectively.
However, the market is highly fragmented, with many small players. The big players are: Reformation, Everlane, Tentree, Alternative Apparel, (Hanes Brands), Eileen Fisher, and H&M Conscious among others.
Productwise top opportunities will be in the organic segment, where sales are expected to touch $686.3 million by 2023. Eco-friendly segment will grow and touch $840.1 million in annual sales by 2023. The top opportunities by end-user will be for men's category, which will see sales reaching $954.1 million by 2023. And China market will be the biggest in terms of size at $367.1 million.