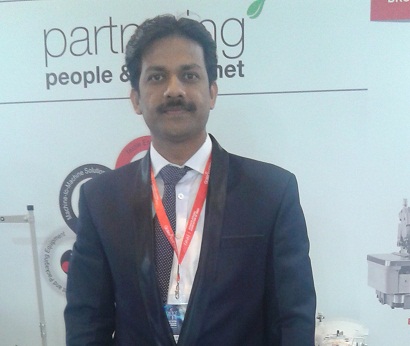 ATE Enterprises that started as a machinery supplier to textile industry expanded to garmenting industry, and later started offering washing solutions to the industry. Now, the company wants to explore the lingerie manufacturing segment by offering automation solutions.
Elaborating on their plans, K B Prasad, VP-Textile Engineering, Garment & Home Textile Machinery, ATE Enterprises says, "We started supplying technological support to the sewing industry players. Lingerie is the next category we are moving to since it has a lot of scope for automation. For now, they buy machines from China and other countries but face problems with after sales support. We will address this issue.
Offering automation solutions to garment makers
Mumbai-based ATE has been focused on garment industry offering technological solutions by partnering with international machinery makers. Today, it has become a trusted machinery supplier to big manufacturers in the country. "We think big. People trust us when they buy machines. We take care of their spare part needs and after sales," explains Prasad. At the recent Galleria Intima fair in Delhi, ATE represented several machinery groups such as Juki, Morgan providing cut to pat machines for intimate wear. "We have big customers like Rupa and Amul. One challenge is that unlike other garment segments this segment is yet to accept automation in a big way and we need to break this resistance. Undergarments are still considered a matter of a few overlocks but there are a variety of fabrics to be handled like spandex, elastic material, where simple sew won't work," explains Prasad.

Juki machines supplied by ATE are equipped with pullers to handle elasticity and synchronise the sewing part. This eliminates puckering and unevenness. ATE also displayed machines from H&H, Hong Kong that allows an operator to handle two tasks at a time. Talking about its USP, Prasad says, "This can increase the operator's efficiency and productivity, while he could get more wages. Buyers are ready to invest in such machineries but are hesitant about hiring more workers. So these machines can solve this issue."

ATE added hot air technology or thermo bonding technology. "We are giving stitchless technology. It's bonding with a tape where no hemming is needed. It's applicable to inner wear and outer wear. China has been using this technology for years. It has just come to India. Players like Gokuldas and Arvind are using these machines. Arvind's stitchless shirts were made on our machines. We can make swim wear, sportswear on these machines and they are ideal for waterproof material," Prasad adds.

Another brand under its fold is Turkey's Inmac owned by the Intex group. Intex sells machines all over the world. In India, Intex has carried out around five successful projects with Inmac. "Sports Garments, White House, Ori Jeans, Wonder Blues have bought Inmac machines from us. Ori manufactures for Diesel brand. Another name is Zodiac. They repeatedly buy our machines for garment dyeing, their shirts are dyed on our machines. Now we are moving ahead in terms of knits dyeing. We see a big market in east India for this. Next we will move into Ludhiana and Tirupur," informs Prasad.

www.ateindia.com