Invista, the leading fiber and fabric innovator in textile industry organised the second edition of its knowledge and innovation conclave 'Lycra Rendezvous' at the Taj Palace, New Delhi recently. The event witnessed leading mills and brands from the textile and apparel industry such as Arvind Denim, Mafatlal Denim, Vardhaman, Banswara Syntex among others participate in the event.
The day-long event saw insightful discussions and product showcase by Invista's key customers. The highlight was the launch of its latest innovation LycraT166L fiber and the unveiling of Arvind Stretch Denim powered by Lycra fiber. Discussions amongst the top denim experts and a scintillating denim fashion show were the other high points. It started with a presentation on the evolution of denim jeans as a result of the butterfly effect 'change happening at one place leads to spread of change everywhere.' Denim jeans were showcased in new colour palettes, pastel and metallic and leather looks.

Arvind Denim launched its latest range of stretch fabrics under two key themes – Denim Glam and Pop Vintage bringing Invista's best textile innovations together with the denim fabric making expertise of Arvind. As Aamir Akhtar, CEO, Arvind Denim explained, "The Lycra fiber brand has delivered multiple breakthroughs over the years through continuous investment in innovations and conquered new frontiers in comfort, fit, functionality and consumer concepts. Invista as the pioneer of innovation has contributed to the growth of the Indian textile and apparel industry that is currently growing at a healthy 14-15per cent. Taking forward our association, we are delighted to present the new generation of stretch fabrics with Lycra fiber that take comfort, style and stretch technology to another level."
Invista shared the fiber innovation story with the audience. Main developments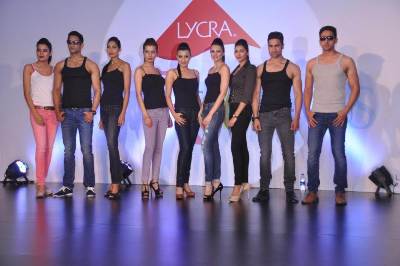 included the Tough Max Lycra fabrics made with Lycra T400 fiber, which imparts strength and comfort. They also showcased their global denim concept collection for Spring/Summer 2014. The collection encompasses innovative garments highlighting company's key technologies for denim including Tough Max, Lycra fabric, Xfit Lycra fabrics, Lycra dualFX fabrics and Coolmax fiber under key three themes of Fantasy, Reality and Harmony. Featured styles under Fantasy comprise of pearlized coatings, reflective surfaces, coloured weft yarns, prints and tie-dye effects; Reality features simple evergreen denim structures and neon colours; Harmony collection represents performance denims with knit inspired jacquard weaves of cotton and Lycra fiber.
Talking about the innovations, Andrew Evans, MD-South Asia, Invista said, "At Lycra Rendezvous, our endeavour was to provide a platform to the denim industry to delve deep into the consumer psyche, identify consumer needs and come up with innovative ways to spark the industry's growth. We received a fantastic response from our customers and representatives of the industry reiterating the success of the event that brought together the entire value chain together."
Commenting about their association with Invista Ravi Toshniwal, MD, Banswara Syntex said, "We have been working closely with Invista for the last 14 years on technical collaborations and new product developments for yarns and fabrics with Lycra fiber and Lycra T400 fiber. We highly value the partnership since it has enabled us to differentiate our offerings and deliver many firsts in the Indian textile market."
Invista also presented novel consumer insights and research findings in a special session aimed at enabling the brands to identify ways of 'winning the today's denim consumer'. The highlight of the event was the brainstorm wherein industry stalwarts delved on topics such as 'Shifting Supply Base: Opportunities & Challenges' and 'What does the Indian market need'.
The forum brought to the forefront challenges and opportunities that the textile and apparel industry is facing currently. The trends and future of the garment industry in countries like Sri Lanka, Cambodia and Vietnam were also discussed at length. It highlighted the ardent need for technological advancement and finesse in fiber processing.