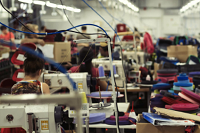 For decades, suppliers have been made a scapegoat by fashion companies and the same is true during COVID-19 as well. Taking undue advantage of the ongoing pandemic, companies have either been exploiting the loopholes in their contracts to cancel orders or voluntarily changing the terms of supplier agreements. Some companies are renegotiating contract terms leaving little room for disagreement from suppliers, says Global Insight. For instance, Arcadia has threatened to cancel orders if suppliers do not accept its 'proposal' of a 30 per cent discount.
Terming these agreements as asymmetric and unfair to suppliers, Ben Vanpeperstraete, Garment Policy Adviser,
Traidcraft Exchange, says they enable brands to either ignore or amend provisions favorable to buyers. Fiona Gooch, Senior Private Sector Policy Advisor of the firm advises buyer companies to honor their original contracts and pay for orders, or pay for liability.
Suppliers take the final call
However, the ultimate responsibility to hold these companies accountability lies with suppliers, says Christie Miedema, Campaign and Outreach Coordinator, Clean Clothes Campaign. According to her, suppliers agree to buyers' terms as they know buyers can source garments from elsewhere if they don't agree. Suppliers also fail to use their legal rights due to fear of costs associated with transnational litigation, adds Vanpeperstraete. Hence, laws should be made with due diligence to hold these companies accountable.
More meat to laws
According to Els de Wind, Co-Chair of the IBA Global Employment Institute, laws need more strength to tackle multinational companies. They should address the issues of national employment law, labor law and public law and also advance the obligatory frameworks and bilateral investment treaties between supplier and buyer countries'. Scott Nova, Executive Director, Worker Rights Consortium, advises suppliers to act collectively across countries as it would give them a lot of leverage.
The Bangladesh Garment Manufacturers and Exporters Association (BGMEA) recently threatened to ban Edinburgh Woollen Mill (EWM) as the company was requesting up to 70 per cent discounts from suppliers. The association is also raising awareness about the actions of other buyers. Once suppliers make this into public issues, companies are forced to change their stance as for them their reputation matters most, says Nova.
Some brands are indeed taking action to address cancellations. For instance, Primark has committed to pay for all orders planned for handover by April17, 2020. The brand believes that solution to this problem cannot be achieved by individual companies, it needs collective action.