On the last day of CENTRESTAGE, the organisers hosted an awards ceremony for the 17th Footwear Design Competition Hong Kong and a product parade of the winning entries. Recognising creative designers in the footwear industry, the competition was co-organised by the Federation of Hong Kong Footwear Ltd (FFHK) and the Hong Kong Trade Development Council (HKTDC). Guests included: Bernard Chan, Under Secretary for Commerce and Economic Development; Frank Leung, Chairman, Federation of Hong Kong Footwear Ltd; Mandy Tang, President, Federation of Hong Kong Footwear Ltd; Selina Chow, Permanent Honourary Advisor of the Hong Kong Footwear Design Competition; Felix Chung, Peter Shiu, Wong Ting-kwong, members of the Hong Kong Legislative Council,and Stephen Liang, Assistant Executive Director of the HKTDC.
Recognising talent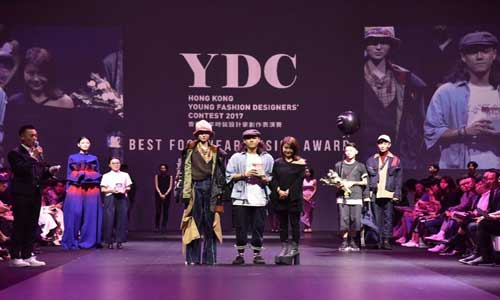 An annual signature event for the industry, the Footwear Design Competition Hong Kong is recognised as the cradle for nurturing and discovering new footwear- design talent needed to sustain future development of the industry. About 70 pieces were shortlisted from nearly 800 inspiring entries received this year, by a judging panel comprised of professionals from related fields. Among them were fashion designers and image consultants, such as Henry Lau, Mountain Yam, Polly Ho, and Christina Dean, founder of the environmental NGO Redress, as well as representatives from the HKTDC, design institutes and industry elites.
Entries competed in six categories: Ladies' Shoes, Ladies' Boots, Handbag, Children's Shoes, Men's Shoes as well as the Design & Make Collection DIY – Green Footprints Creation, the latter of which is a new category to promote environmental living. Gold, Silver and Bronze award winners were named in each category, along with prizes awarded to a Belle Overall Champion and a Best Design Award, voted by the public via the FFHK's Facebook page.
Winning entries
The entry 'Infinity' was named Belle Overall Champion, Gold Award in the Ladies' Shoes category and Best Design Award. Motivated by the environment problem of coral bleaching, designer Joanne Li Wai-ting was inspired to use 3D printing technology in her creation. She used a white-colour theme to symbolise dying coral reefs, in a bid to raise public awareness about marine pollution. Designer Chan Ka-ling, Chan Pui-lam and Lam Wing-yee each received two awards for their exceptional designs. All the shortlisted and winning works were on display during the event.