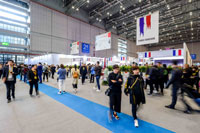 CHIC China International Fashion Fair, Asia's largest and most important fashion and lifestyle fair, held from March 12 to 14 2019, concluded successfully with 103,722 visitors. The fair was attended by over 1,365 national and international exhibitors with 1,453 brands from 16 countries. Held over 117,200 sq. mt at the National Exhibition & Convention Center, Shanghai; CHIC attracted visitors from all trade channels including leading department stores, shopping centers, e-Commerce platforms, agents, distributors, multi-brand stores to wholesalers etc.
Discussions held at the fair focused on the latest trends, cooperation between brands and order inquiries. Exhibitors of the international area Fashion Journey from Belgium, Germany, France, Hong Kong, Italy, Korea, Poland, Switzerland, Taiwan, USA were very positive about their participation in the fair.
A lavishly designed stage
Italian manufacturers, under Italian Trade Agency ITA, presented a lavishly staged stand design, with an own catwalk area featuring Italian fashion two times per day to special VIP visitors invited by the ITA Shanghai Office and attracting crowds of people outside the pavilion watching the shows.
Exhibitors were also able to place orders. Giorgio et Mario and Urbahia from France, Leguano from Germany, or Zhongqiao Resources from Hong Kong, caused a stir with their color changing T-shirts and wrapped up many orders. Epoque Hats from Poland, a newcomer at CHIC, had customers visiting from, all over China, Korea, Japan and France.
New format attracts visitors
Exhibitors also presented new formats such as Diction in the area of Impulses, an online platform and a showroom for international designer brands, or Hangzhou E-Fashion Town in the womenswear section New Look.
Chic Tailoring, the new Bespoke area at CHIC, attracted thousands of visitors with KuteSmart (formerly Red Collar) presenting its latest tailor-made technology. The customer chooses the design, the fabrics, the style and receives the finished product within 7 days. The complete process takes place via special apps.
At Urban View, market leaders such as GSON, Semir or the HODO Group reported on a large number of inquiries for nationwide representations. TCH (Techno Chillout House), a UK label founded in 1989 in Bristol, drew visitors to the stand with a giant tiger head.
With Topnine, Tilman, Covet Blan from Korea and 4cm, wookong , YZKK and Time Pop, Chic Young Blood presented the trendy street wear labels , which caused a great sensation at the fair.
New entries at the show
The online platforms JD.com and Koalo.com, one of the most dynamic websites launched in 2014 introduced themselves at the event as did DFO Showroom with five product categories and over 60 international apparel and accessories brands in its portfolio and all major retail formats including Galleries Lafayette, Harvey Nichols, Shangpin, Secco, etc. as customers.
Event emphasises need for information exchange
Events such as the Kids Fashion Brand Business Development Meeting, the Jewelry, Bags Procurement Demand Meeting for key buyers, or the Analysis of Consumption Motivation and Marketing Strategies presentation in the Context of Consumption Grading were packed with visitors queuing in the lobby indicating a great need for information exchange.
Discussions were held on topics such as 'Returning to the Top of Fashion banquet.' Here market leaders such as Bosideng Group, Toread, Mukzin, Eifini, etc. held intensive discussions with major retail chains including Dashang Group, Tmall etc. The CHIC APP enabled the brnads to arrange appointments in advance of the fair with potential customers.