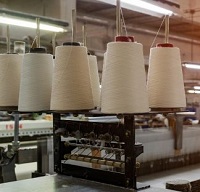 Collaborations are an important part of supply chain management in the textile industry. They help the industry create the right textile product for application. To highlight the importance of partnerships in the industry, MIT and the Fashion Institute of Technology (FIT) published an instruction manual describing their multi-year partnership to develop sustainable fabrics, to help other organizations replicate their success.
Titled, 'Transdisciplinary Innovation Playbook: How to build a virtual workshop that collapses walls between design and engineering and kick-starts collaboration to solve real world problems' is a template for building partnerships in the textile industry. The manual elaborates on ways to find the right industry partner, employ the most suitable associates and plan an effective budget for projects.
Synergy between design and engineering
In 2017, Joanne Arbuckle, Former Deputy to the President for industry partnerships and collaborative programs
at FIT, and Gregory C Rutledge, the Lammot du Pont Professor in Chemical Engineering at MIT also proposed a plan to develop a synergy between design and engineering in the textile industry. To realize their collaborative vision, FIT and MIT approached Advanced Functional Fabrics of America (AFFOA), which agreed to support their work.
The result was a multiyear partnership to organize workshops on developing products using advanced fibers and fabric technologies. Being held since 2018, these workshops help the domestic textile industry develop new advanced fiber and fabric technologies. They help create next-generation workforce for the advanced fiber and fabric industry.
Students attending these workshops learn new technologies developed by MIT and FIT. This helps them respond to the challenges that emerge during the course of the project. The workshops also allow students to see some of the research in the field of technical textiles, says Chris Wawrousek, Senior Creative Design Leader, New Balance Innovation Studio.
Revolutionizing textile technologies
Over the last few years, students have launched many futuristic projects that revolutionized existing designs and technologies in textiles. Some of these projects are:
• Project to develop a biodegradable lifestyle shoe by Team Natural Futurism by using natural material alternatives, including bacterial cellulose and mycelium, and advanced fiber concepts
• A project by Team CoMIT to Safety Before ProFIT to explore various ways runners get hurt
• A project by Team Peacock to develop a color-changing athletic apparel range that analyzes the athlete's movement through an app
• A project to design apparel and footwear using PE (polyethylene) and color changing material by Team Ecollab
• A project to create a long-lasting footwear range by Team Laboratory56 that reduces waste by using PE, while connecting with the community through a recycling app program.
The playbook is expected to encourage students to work in an interdisciplinary environment, and advanced textiles. It would help create an agile, innovative, and able to apply higher-order thinking workforce to develop the future of the industry, says Sasha Stolyarov, CEO, AFFOA.
Arbuckle adds, the MIT/FIT collaboration will encourage other institutions to team up to develop new products to help define the industry's future. Collaborations between designers and engineers will help develop new technologies having everlasting impact on the world, adds Yuly Fuentes, Project Manager, MIT Materials Research Laboratory.