Cotton USA showcased its latest innovations in smart fashion at its booths in both Intertextile Shanghai Apparel Fabrics and Yarn Expo.
At both these shows, Cotton USA™ highlighted U.S. cotton's sustainability, quality, transparency and premium value, as well as the findings of current market and consumer studies and its ongoing Sourcing Programs that match U.S. cotton buyers and suppliers throughout the supply chain.
Visitors to the booths also learned about how becoming a Cotton USA™ licensee will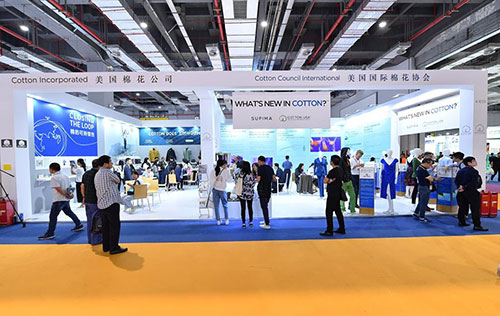 benefit their businesses. Quantitative consumer research proves that the Cotton USA™ Mark is of high value to consumers and can drive both preference and higher prices. In addition, Cotton USA highlighted six licensees at the booth–Color Denim, Huafu, Laws Group, Ningbo Guangyuan, SCHIESSER and Zibo Lanyan–showcasing high quality knitted and woven fabrics and garments.
This year's the Intertextile Shanghai Apparel Fabrics show had more than 4,400 exhibitors from 33 countries to feature a full range of textile products, and it attracted nearly 89,662 visitors from over 120 countries & regions to the three-day-show.