Stäubli's booths at ITMA + CITME 2016 are not just about technology updates, it's about the whole experience. Live demonstrations of challenging weaves and weaving preparation processes will vividly illustrate the extraordinary flexibility provided in terms of applications, automation, and services for weaving mills.
Stäubli drives worldwide Jacquard boost with adaptable machinery
In the Jacquard area at the booth, a refined DX Jacquard machine including harness will be shown at a special demonstration stand. This proven Jacquard machine has been redesigned for even longer service life and is being publicly unveiled at this show. Suitable for any standard Jacquard application, the DX can be used with the full range of Stäubli harness types. Stäubli harnesses are widely appreciated by weavers for their levelling features and their perfectly balanced high-quality components, delivering high performance and durability.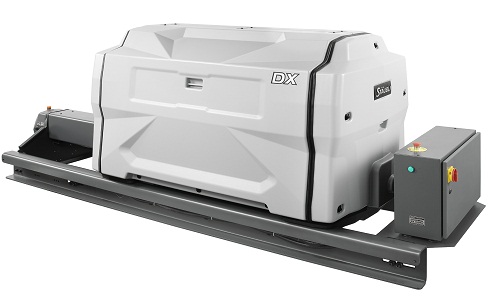 Stäubli will be showing the completely re-engineered electronic LX and LXL Jacquard machines for the first time in Asia. Producing a wide array of fabrics, these machines will demonstrate their exceptional precision and reliability in complete Jacquard installations. The extremely versatile LX Jacquard machines and LXL Jacquard machines are ideal for broad use in modern Jacquard weaving. These new series feature a new lifting mechanism that allows high-speed weaving of even extremely heavy fabrics. With the new coaxial drive shaft and re-sized chassis supporting beams and bearings, the new models can handle up to 26% greater loads than previous models. In addition, the positioning of the fans in the housing of the LX optimises internal airflow, thereby ensuring that the machine interior remains clean and at a controlled temperature. The LX models are available in sizes up to 6,144 hooks, whilst the LXL can achieve up to 36,864 hooks when two machines are combined.
Presenting the third generation of dobbies
Being presented to the public for the first time are the newly developed S3062/S3061 dobbies for water-jet applications. The evolutionary design of these machines now incorporates the exclusive Stäubli locking system for enhanced security and for selection of the heald frames. These technologies are being unveiled with the third generation of electronic rotary dobbies, previously available only for rapier and air-jet machines. The new S3062/S3061 dobbies are being launched in combination with the new generation of high-mounted transmissions, the de82 and de83, featuring perfectly balanced kinematics, reinforced structure, and an integrated controller. Weavers who invest in the high-performance combination of S3062/S3061 dobby and de82/83 transmission will profit from higher output as a result of higher running speeds and superior reliability. In addition, they can run their mill with less maintenance and lower energy consumption.
SAFIR S40 enhances efficiency
Efficient drawing-in of cotton warps is the speciality of the SAFIR S40 automatic drawing-in system. In a single cycle, it draws in directly from one warp beam into drop wires, healds, and reed. Featuring a mobile drawing-in machine, it supports continuous workflows and ensures reliability in terms of quality and quantity resulting in economical production of fabrics like denim, bed and table linens, or blouse and shirt fabrics, produced with a maximum of 12 heald frames. Visitors to the booth will be able to see their future workhorse demonstrating its efficiency while drawing in denim yarn (100% Co), Ne 12, open end.
TOPMATIC warp-tying machine
The well-proven TOPMATIC is also being demonstrated at the Stäubli booth. The model TOPMATIC 201 PC with integrated double-end detection – even for warps with no lease – will show its strengths tying a cotton warp without a 1:1 lease.
MAGMA T12 – automatic warp-tying for technical fibres
Ideal for mills supplying the growing market of technical textiles, the MAGMA T12 warp-tying machine ties medium-to-coarse yarn types, e.g. coarse multifilament, PP ribbons, bast fibres, coarse staple fibres, and many other fibre types. The machine is equipped with an optical system for double-end detection and has a patented yarn separation system, eliminating the need for specific separation needles. A touch-screen panel displays information about the tying process and is used by the operator to conveniently enter parameters and settings. The MAGMA T12 will be demonstrated at the Stäubli booth tying 0.4 mm nylon monofilament yarn.
DEIMO knitting solutions
Stäubli will be showing for the first time in Asia the D4S automatic toe-closing device for circular sock knitting machines. Visitors to the booth will see for themselves how the D4S drastically shortens the sock production process. The latest model in the DEIMO range of controllers, the type 2900 S, serves as an electronic controller for circular knitting machines. DEIMO is presenting its product range at a separate booth in the knitting area: D15 in Hall 4.