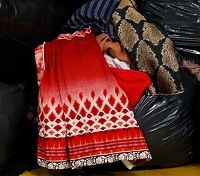 Textile and apparel recycling, which prevents the fashion industry's growing of pile of waste from being dumped into landfills, is reeling under COVID-19. Thrift shops and clothing banks outside stores and on streets across the world are deluged with more clothes than could be sold on, reports China Daily.
Lockdown forces recyclers to cut prices
Recyclers and exporters are being forced to either cut prices or shift stock as lockdown measures have restricted movement and slowed business in end markets. Recyclers like Green World Recycling are demanding price cuts for clothes they collect. Since May, prices that the company charges from overseas buyers dropped from €570 a ton to €400. Buyers are also demanding an extension to credit periods to 45-60 days, adding to cash-flow problems, says Antonio De Carvalho, Owner.
Recyclers are also reducing the number of times clothe banks are emptied per week, and looking at laying off workers to conserve cash. Jackie King,
Executive Director, Secondary Materials and Recycled Textiles Association (SMART) points out, this recession is unlike any other witnessed before, and more companies are likely to go out of business.
Used clothing exports decline by half
As per UN trade data, the industry has seen an annual average of over $4billion used clothing being exported globally over five years to 2019. However, the weight of used clothing exported from March to July was around half what it was for the same period last year. Though exports improved in July, they were still down almost 30 percent compared to last year.
In the United States, the value of exports declined 45 percent from March to July compared with the same period last year. About one third of used clothes are sold in developing markets like Kenya that imported 176,000 tons of second-hand clothing in 2018, equivalent to over 335 million pairs of jeans.
Like the rest of the world, secondhand clothes business in Nairobi's Gikomba market is sluggish. Shop assistants are being forced to sit idle while traders call out to shoppers to try their garments. Traders face not just shrinking supply but also the government's ban of used textile imports and falling footfalls. Though the ban on used textiles imports was lifted in August after pushback from traders in Kenya and industry bodies in Europe and the US, struggle for traders like Mutisya and Anthony Kang'ethe continues as their businesses have been hit hard by supply crunch.
Commercial sale of second-hand clothing from Europe and the US to emerging markets took off in the 1990s as Africans and Eastern Europeans increasingly began demanding Western fashion. This provided much-needed release to the fashion industry whose production had doubled over the past 15 years, says Ellen MacArthur Foundation
UK produces more waste than the US
As per a 2019 UK Parliamentary report by the Environmental Audit Committee, British shoppers buy more clothes per person than any other country in Europe. About 300,000 tons of clothes go to landfills or incineration per year, the report adds. On the other hand, the US produces just under 17 million US ton of textile waste per year, says the Environmental Protection Agency. This is equivalent to around 29 billion pairs of jeans, of which, two-thirds ends up in landfills.
Though fashion retailers, including Zara owner Inditex and H&M, are encouraging shoppers to bring unwanted textiles to their stores, only a small proportion of these clothes are sold in international markets. The clothes collected by H&M are processed by I:CO, a unit of German textile recycling company Soex. Hence, the problem of textile waste is becoming bigger by the day.