"Long fibre spinning, yarn twisting and control, heat setting, carpet systems, nonwovens, dyeing and finishing, air and recycling processes et al categories were exhibited by seven French machinery manufacturers at the recently held ITMA + CITME 2016."

Long fibre spinning, yarn twisting and control, heat setting, carpet systems, nonwovens, dyeing and finishing, air and recycling processes et al categories were exhibited by seven French machinery manufacturers at the recently held ITMA + CITME 2016.
Evelyne Cholet, Secretary General of their Association explains, "The most well-known textile machinery inventor, Jacquard, was French. Research and development is our DNA. Our companies are SMEs run by entrepreneurs. Innovation is derived mainly from down to earth partnerships with our clients."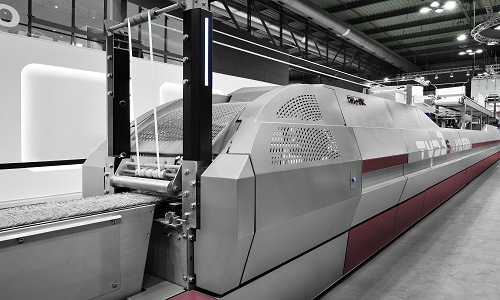 For textile machinery, Asian markets are most important, particularly China which has been more difficult in recent months. Cholet comments, "We believe the Chinese textile industry will rebound thanks to its national market. When I travel all over China, I see that most Chinese like fashion as much as smart phones, that they are ready to spend money on apparel. Then I think that the Chinese national market will grow at a fast rate and that the best, most efficient, energy conscious machines will be more and more needed to produce apparel, home and technical textiles. We are well positioned to answer our customers' needs."
French fare at ITMA-CITME
N Schlumberger and SeydeL, members of 'NSC fiber to yarn' introduced two new drafting heads: the chain gill drafting head GC40 and the screw gill drafting head GN8. These two types of drafting heads are perfectly adapted to process any kind of wool or wool like fibers as well as Cashmere. NSC fiber to yarn showcased its complete product range and in particular, the latest developments in combing machine ERA40 and in gillboxes with the GC40 and the GN8.
With an eye on environment Laroche has been, deeply involved in the development of textile waste recycling technologies, achieving great processes and continuously helping to discover new ecofriendly solutions for the future. It offers complete processes to open into fibers almost all types of textile waste. Taking as example, the post-consumer garments, Laroche's technologies can open the used garments into fibers removing all the bottoms and zips.
Fil Control is recognised for its first class yarn sensors and cutters. The company presented a full range of new and innovative products during ITMA ASIA 2016. Its development capacities have been stronger and stronger with more than 12 new sensors and solutions developed during the last 3 years. The sensors range is applied on a large number of fields and machines such as spinning and drawing (long and short fibers), texturing, assembling and winding, twisting and covering, etc.
The new MYT-T tension sensor uses an innovative and unique on-line tension measurement technology with the advantage of limiting temperature influence and avoiding tension pick to break the sensor head. This sensor is already used on the technical yarn industry and will be adapted soon for other assembling, winding and texturing operation.
Aesa Air Engineering is a global leader in industrial air conditioning, which is so important to optimise the production processes in the textile industry. Aesa combines rigour and experience, particularly for the textile industry, in which the company teams are specialised in spinning, weaving, knitting, nonwovens, dyeing and finishing, man-made fibers. The custom-made solutions for each factory are focussing on optimising the added value in term of precision, reliability, waste management and energy savings.
Superba is the largest and most experienced manufacturer of high-tech heat- setting machinery. Since July 2015, Superba is part of the family of companies from the Belgian group Vandewiele with very strong synergy effects in the carpet field. The company develops and produces integrated heat-setting lines for the processing of yarns that are used in the carpet manufacturing industry.
Superba, already mastering the sophisticated space-dyeing technique for years, is now offering their latest machine type MCD3: this new version is able to continuously dye a bundle of 72 yarns, with a production of up to 300Kgs/h and a range of six spot colors. The new MCD3 also permits a new style of space-dyed yarn thanks to its exclusive bi-color technology, offering the carpet designer a wider range of possibilities. Superba also provides the LV3 steaming and shrinking lines for the heat setting of acrylic yarns used in high density - high quality Persian carpets, now extended to 96 ends with a production of up to 10T/day.
Dollfus & Muller, founded in 1811, manufactures endless felts and dryer belts for the textile finishing and nonwovens factories. The company introduced its improved compacting felt for knit finishing with major evolutions compared to other products to serve better the dyeing houses. The compacting felt quality brings a special care to the fabrics thanks to its smoothest surface, has an excellent guiding and the best compacting rate in relations with its new exclusive compacting felt design.
Trelleborg is a world leader in engineered polymer solutions. The group has annual sales of more than 3 billion USD. Trelleborg's rollers and belts operation exhibited its complete product range to leading textile companies from mainland China and the Far East at ITMA ASIA 2016. The complete Rollin® range of rubber shrinking belts for use any compressive shrinking was also showcased.