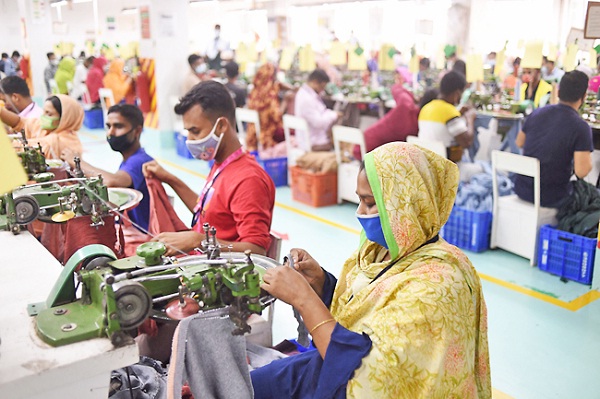 Reliant on garment exports for its forex reserves, Bangladesh reported a drop in export in May 2022 as demand from Western economies stagnated due to growing inflation, Russia-Ukraine war and supply chain bottlenecks. Latest Export Promotion Bureau (EPB) stats show, though Bangladesh's merchandize exports grew 23.24 per cent Y-o-Y to reach $3.83 billion during the month, it had declined to its lowest levels on month-on-month basis. Remittance flows from Bangladesh also declined 13.15 per cent year-on-year in May.
Export earnings drop $1billion in May
Drop in exports and lowering of funds transferred by migrant workers is likely to pressurize Bangladesh's foreign currency reserves as the country's import costs have gone up due to rise in commodity prices. Bangladesh's exports earnings increased over $4.50 billion per month from September to April as receding pandemic led to a surge in demand. However, export earnings decelerated almost $1 billion in May than the average registered between September and April. During the July-May period of fiscal 2021-22, export earnings grew 34 per cent year-on-year to $47.17 billion.
Decline in purchasing power impacts clothing demand
Kutubuddin Ahmed, Chairman, Envoy Textile points out, a drop in buying power among Western consumers due rising inflation in four of its major export destinations, has impacted demand for clothing items in April 2022. Inflation peaked to its highest levels in 40 years at 8.3 per cent in the US, 9 per cent in the UK and 7.4 per cent in Germany during the month. This rise led to a few international brands and retailers demanding 2.5 to 5 per cent discounts on consignments, Ahmed opines.
Moreover, import costs of raw materials and machinery are constantly growing. Machinery suppliers are demanding 20 per cent more for delivering machines on account of the Russia-Ukraine war, Ahmed says.
Faruque Hassan, President, Bangladesh Garment Manufacturers and Exporters Association (BGMEA), attributes export slowdown to Eid-ul-Fitr holidays when factories are closed for a week, on average. He predicts a further slowdown in orders due to rising inflationary pressures.
Offer more incentives to MMF manufacturers
Hassan believes, to boost exports manufacturers should offer more incentives to MMF manufacturers as demand for non-cotton items is rising worldwide. Mohammad Ali Khokon, President, Bangladesh Textile Mills Association (BTMA), points out, export slowdown did not affect work orders for yarn and fabrics in May though delivery of goods slowed down a bit. He hopes, orders will make a comeback in July this year.
Between July and May, shipment of leather and leather goods increased 31.85 per cent to $1.11 billion. Exports of rubber goods, cotton and cotton products, carpets, footwear, terry towels, ships and bicycles too went up in May while export of jute and jute products declined 3.19 per cent to $1.05 billion, reveals EPB data.
Consumer's cut back spending due to economic slowdown, rising inflation and uncertainties in Europe, explains Khondaker Golam Moazzem, Research Director, Centre for Policy Dialogue. If the current slowdown continues, Bangladesh may lose its export momentum, he fears.
Weakening of taka is also helping exporters convert their earnings into local currency. To ensure fair exchange value for exporters, the Bangladesh Bank recently allowed market forces to determine the exchange rate of the taka against the US dollar.