The world's leading apparel fabrics and accessories industry show Intertextile Shanghai Apparel Fabrics – Autumn 2015 opened its door at the National Convention and Exhibition Center, Shanghai today. Over 4,600 exhibitors from 29 countries representing a 20 per cent increase are showcasing a full range of products across 10 halls till October 15, 2015.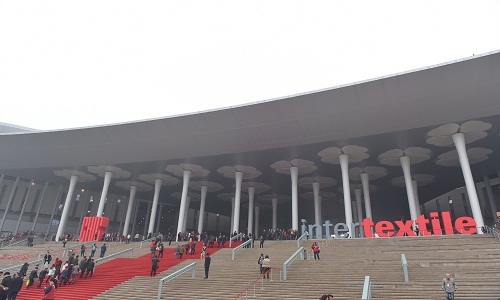 "The 20 per cent growth in exhibitors demonstrates just how renowned Intertextile Shanghai Apparel Fabrics has become in the global industry, and how it is seen as the premier sourcing destination to be at each March and October. To ensure this remains the case going forward, we have added new elements and revamped some of our product zones at this edition," said Wendy Wen, Senior General Manager of the fair organiser Messe Frankfurt (HK).
Chinese market continues to hold importance
The world economy has undergone many challenges this year, but the surge in exhibitors proves the industry still believes that there are opportunities in the Chinese and Asian markets.
Contrary to the notion that devaluation of yuan against the dollar may make an adverse impact on the global textile industry as a whole, according to Olaf Schmidt, Vice President, Textiles & Textile Technologies, Messe Frankfurt Exhibitions GmbH, there would be no impact on fabrics priced between mid to high level, as the difference really doesn't impact final ready to wear prices, however impact would be much more in low cost fabrics.
Expressing his views on devaluating currencies and business dynamics, Michael Scherpe, President, Messe Frankfurt, France said, "It depends on which side of business you are in. For Europeans, it is beneficial since currency all these years was very strong. For those on the Chinese side of business, yes it will be little difficult but nothing very radical and challenging to balance the situation. More than these little changes, we have to see the political scenario that is causing a lot more uncertainty."
A whole range of pavilions and product zones
The autumn editions of Intertextile Shanghai Apparel Fabrics; CHIC, the China International Fashion Fair; PH Value; and Yarn Expo are all simultaneously taking place showcasing high-quality domestic and international fabrics and accessories, yarn, garment and knitting manufacturers.
The international halls are divided into various pavilions and product zones to feature an extensive variety of products from around the globe. SalonEurope with France, Germany, Portugal, Turkey, the UK and Italy's Milano Unica pavilions together with exhibitors from Bulgaria, Czech Republic, Slovenia, Spain and Switzerland are displaying high-end European-made fabrics and accessories. In addition, the FILO Pavilion is featuring Italian yarn and fibre companies within Milano Unica for the first time.
Premium Wool Zone is offering premium wool products from France, Italy and the UK. The exhibition area has increased in size by over 50 per cent this season. In Verve for Design, in addition to returning design studios from Hong Kong, Italy and the UK, designers from Japan, Switzerland and Russia are also taking part for the first time to display inspiring textile pattern designs. Asian country and region pavilions - India, Indonesia, Japan, Korea, Taiwan and Thailand enrich the diversity of products on offer. A large selection of innovative products will be introduced in the Birla Cellulose, DuPont, GNC, Hyosung, Invista, Lenzing, Korea Chemical Fibers Association (KCFA), Korea Textile Trade Association (KTTA) and SRTEPC group pavilions.
All About Sustainability area including an Education Zone also has ecoBoutique display area, Forum Space and the Oeko-Tex pavilion. The entire sustainable supply chain as well as seminars on sustainable solutions and initiatives can be found in this area. "Two trends are quite obvious; says Schmidt, adding, "first is sustainability, though it is new, but is increasingly gathering momentum and second is movement of fabrics towards high quality."
And a debut product zone and revamped denim area cater to current market demands. Around 60 exhibitors are featuring in the Performance Lab area in response to the rapidly growing demand for high-performance products and production technology. Beyond Denim has not only expanded by 74 per cent but also appears with a new image. Denim exhibitors from the concurrent CHIC garment fair are taking part in this hall as it becomes a true one-stop sourcing platform covering the entire supply chain.
Categorised by product end-use, domestic exhibitors are located in six halls: tiled Casual wear, Lingerie and swimwear, Functional wear & sportswear, Shirting, Suiting and Ladieswear. The Accessories Hall is also housing over 660 accessories suppliers from China and overseas showcasing zippers, buttons, lace and embroidery, linings and interlinings, thread, appliques, sequins, beads, rhinestones and more.
Fringe programme - an integrated learning platform
To meet the industry's needs, new elements have been added into this year's fringe programme. A brand new Digital Printing Forum and a series of panel discussions will be held for the first time throughout the three-day fair, along with 31 informative seminars. Experts from different industry sectors will share a wide range of design and trend ideas, the latest market news as well as industry technologies.
In addition, the Autumn/Winter 2016/17 international trends envisioned by the Directions Trend Committee will be revealed in the Intertextile Directions Trend Forum. To further interpret the trends on display, Ornella Bignami, Creative Director of Elementi Moda and the Trend Forum designer, will demonstrate seasonal trend stories at three Trend Tour sessions during the first two days of the fair.
This is the first Autumn Edition of CHIC, the China International Fashion Fair. This new edition aims to strengthen the industry's development by gathering both upstream and downstream resources. Over 700 brands from 23 countries and regions are featured in this comprehensive industry platform to offer the best quality products and innovative services. Based on the themes of 'Age of Big Connection: Smart Manufacture', a total of 18 fashion seminars and over 10 CHIC Shows will be held concurrently.
This year, the CHIC 2015 Autumn fair adopts the theme of 'Smart & Fashionable', using 'Smart' to fully integrate all steps and products of the industry supply chain. It interprets 'Smart & Fashionable' from three dimensions of manufacturing, products and retail, and integrates multiple parts of smart expo services, smart manufacturing, smart terminals and smart products, thus being fully prepared for the advent of the new age of technology reform. The 'Smart & Fashionable' theme will run through fashionable menswear and ladieswear, and specialised manufacturing and processing exhibition zones, while the two newly added theme zones of 'Smart & Fashionable' and 'Smart Manufacturing' will also present the new 'Smart & Fashionable' trend from different perspectives.
PH Value, with a total of nearly 300 exhibitors is focusing on offering finished knitwear products, which includes knitwear, underwear, home products, T-shirts, socks and more, which reflects the value chain, from ready-to-wear processing to brands, sales channels and consumers. Concurrently with CHIC, forum activities will also be held. The forums are on hot topics in the industry including 'Internet + Dialogue Digital Retail Future', 'Fibre-Perfect integration between high performance and eco-friendliness', 'Application of polyaminoester short fibre in textile', and 'Forecast of knitwear popular trends'.
This year's Yarn Expo has attracted a total of 258 overseas and domestic suppliers from 10 countries and regions. A strong line-up of fibre suppliers showcases the most cutting-edge high-performance products available today. Concurrently, Yarn Expo will showcase the '2015/16 China fibre popular trends' as well as a variety of forums and lectures.
Intertextile Shanghai Apparel Fabricsis co-organised by Messe Frankfurt (HK), CCPIT; and the China Textile Information Centre.
www.intertextileapparel.com