Due to the extra cushioning they provide, sports and athletic insoles are gaining popularity amongst sportsman. A report by Future Market Insights points out, the global sports insoles market is expected to grow at a CAGR of 7.7 per cent from 2020-2030. Insoles help sportsmen maintain feet comfort besides improving their body posture and providing breathability to the sole.
As gel insoles help absorb shocks generated during hardcore sports, they are gaining huge popularity amongst sportsmen, athletes, regular walkers and runners. Incorporated with a Messaging Gel Advanced technology, Dr Scholl's® Athletic Series Sport Insoles help sportsmen reduce muscle strain. The gel insoles manufactured by Sofe Sole also ensure maximum cushioning for activities like running, cross training and walking. Having Skydex air bubbles in the heel and arch, insoles help sportsmen absorb impact.
Silicon and polymer emerge as favorite materials
Most sports insoles are made from silicone which absorbs the shock on heels, and metatarsal regions and maintains the foot's arch. Besides silicone,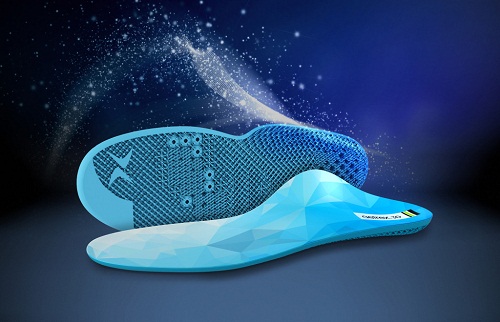 polymer insoles are expected to record remarkable growth in the next few years. One prominent manufacturer of polymer insoles is Amercule whose insoles are made with abrasion-resistant polyurethane, offering unparalleled impact reduction and shock absorption.
Manufacturers are also investing in the research and development of new materials in this area. For example, Nike has developed a new React technology that confirms durability.
Shortens delivery time
Another innovation in the development of sports insoles is 3D printing which simplifies fitting and customization process during insole manufacturing. It also reduces manufacturers' production and delivery times. Hence, players across the world are opting for 3D printed sports insoles. Phits™ Insoles integrated their leading dynamic measurement foot scan solutions with Materialize's 3D printing software to manufacture customized, dynamic 3D-printed insoles. Another specialized 3D-printed orthotics manufacturer is 8sole whose advanced biomechanics help alleviate the sportsmen's pain by exerting only half of the total pressure.
Sports insoles for women are leading market growth as the percentage of women's participation grew over 10 per cent in the Summer Olympic Games 2016 after 1950s. Many new players are entering the market with the US leading growth.
Rising costs and lack of knowledge impede future growth
Sales have seen good growth with online retailers recording strong CAGR during the forecast period. The rising cost of sports insoles are a major challenge the market. Also, consumers are not aware of many new products that are launched. Counterfeits are another challenge that insole markers have to contend with. Leading players are witnessing an increase in production of fake products which is impeding growth.
The pandemic has also disrupted demand across the globe. Ongoing transport ban has affected raw material imports, slowing production. The market is expected to revive in the current year as many players are switching to online versus offline sales. Players are advertising products at the some of the biggest events like Bauerfeind which sponsored events such as the Olympics and National Basketball Association (NBA) league. Manufacturers are also successfully penetrating newer markets with breakthrough innovations. The market is expected to reach a value of $19,650.9 million by 2030.