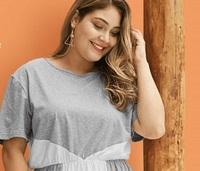 As adopting a sustainable lifestyle becomes more and more important today given the current situation with COVID-19, plus-size shoppers are at a disadvantage as sustainable clothes are normally not available in their sizes.
Affordability hampers sustainability
Independent brands do not normally create a full size sustainable range due to the lack of demand. Hence, many plus-size influencers end up working with fast fashion brands. Also, plus size fashionstas are expected to be more aware, ethical and sympathetic towards wider and more important issues within the industry. Danielle Vanier, a plus-size blogger, agrees that there needs to be a greater emphasis from slimmer people on sustainable brands to extend their sizes.
Quite often, eco-friendly fashion is looked upon as an investment or an expensive purchase that can be worn and re-worn over the years. It
necessitates a continuous cash flow for people in these categories. However, fat people earn lesser than thin people, says a recent report. Hence, before urging them to buy sustainable clothes, the industry first needs to address their financial capabilities.
Industry needs to be all-inclusive
Also, eco-friendly plus size clothes are rarely sold by charity shops and vintage stores. These stores rarely stock above size 18. According to Alissa Schmitz, Owner, Plus Babes Vintage, many vintage stores don' consider selling plus-sizes as they want to act exclusionary since they define themselves particularly through their 'cool' customers.
Emphasizing industry needs to create more sustainable clothes for plus size customers, writer and influencer Stephanie Yeboah says sustainable fashion movement needs to be more inclusive. Consumers can't wear sustainable clothes if fashion brands are phobic towards plus sizes. The fashion industry can't claim to be ethical if they fail to meet the demands of the entire industry. She feels, thin bloggers who boycott fast fashion brands to promote sustainability, should also boycott brands that refuse to supply a full size range to their customers. This will reflect the solidarity within the industry and invoke real progress.