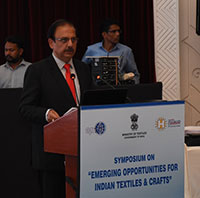 To meet the challenges and opportunities arisen due to outbreak of coronavirus in China, a symposium on 'Emerging Opportunities for Indian Textiles and Crafts' was organised by Export Promotion Council for Handicrafts under the aegis of Ministry of Textiles, Govt. of India at New Delhi.
Smt. Smriti Zubin Irani, Hon'ble Union Minister of Textiles was the Chief Guest. Shri Ravi Capoor, Secretary (Textiles) was the Guest of Honour.
Shri Ravi Capoor delivered the key note address to the stalwarts exporters belonging to handicrafts, handloom, textiles, carpet, synthetic along with buying agents association. He said the whole world knows that the global value chain has been adversely impacted due to situation in our neighbourhood i.e China. He encouraged industry to believe that every crisis has an opportunity and Indian industry could leverage the bold moves made by Govt. of India around man-made fibers. Further, the Government support through a dedicated mission around technical textiles should be used to catapult India into the global stage. Lastly Shri Capoor encouraged industry to take advantage of the China+1 policy which companies are using as till now only South East Asia has fully benefited from buyer policy. Indian manufacturers should also diversify their sourcing opportunities to country other than China on immediate basis.
The purpose of organising the symposium was to deliberate on opportunities to position India as alternate
sourcing hub in the current scenario Shri Capoor further said.
Chairmen/ Secretary General/Director Generals and Executive Directors of all EPCs, senior Government officials, various buying houses of overseas buyers were present in the symposium and presented impact on their sector and deliberated on various import/export related issues and suggestions to combat the situation. Large number of member exporters from Moradabad were present in the symposium which included Mr. Nabeel Ahmed, Member-COA-EPCH and Mr. Awdesh Agarwal, Secretary, Moradabad Handicrafts Exporters Association. From Jodhpur, Mr. Hansraj Baheti. Member COA-EPCH, Mr. Lekhraj Maheshwari Member –COA – EPCH from Jaipur were also present.
Hon'ble Minister of Textiles Smt. Smriti Zubin Irani started her address by sharing the good news that 22 crores farmers have soil health by now and benefits of using this technology would improve the agricultural sector on which apparel export is significantly based. The Ministry of Textiles has been interacting with industry very closely and major policy decisions like liberalizing MMF sector and GST concerns in handicrafts industry have been addressed. Some of the new areas which the Government would like to encourage are technical textiles, support to MSME and Government would like to see industry responding by positioning India not only as a sourcing hub but also as an end to end leader in textiles sector. She encouraged all the EPCs to bring MSME units for hand holding towards quality, compliance, R&D and certification which the Government will support. Younger MSMEs with hunger in the belly will be drivers of India's dominance in the world in the coming times.
Shri Rakesh Kumar, Director General – EPCH while speaking on the occasion made some innovative and bold steps around "Namaste India" to attract overseas buyers towards Indian fairs and thereby to look at India as a compliant and safe hub. Shri Kumar also articulated another innovative marketing approach of using travel agents in USA and EU to drive the "Namaste India" campaign. He availed the opportunity of presence of Secretary Textiles with number of suggestions which included MAI grant for the buyers from developed countries, long term visas, involving embassies and consulates in aggressive marketing and finally assisting foreign buyers to set up dedicated joint ventures with Indian manufactures.
During symposium various issues pertaining to Government support with respect to nodal officer in Embassies for export facilitation and nodal officer in Ministry of Textiles for trade facilitation, issuance of phyto-sanitary certification, support for RoDTEP scheme were raised to which while responding in the end, Secretary Textiles Shri Capoor assured all possible help and appreciated the idea of "Namaste India" campaign to be undertaken by all EPCs in the next two months to project India as sourcing hub destination and encourage maximum visitors to the shows in India. He assured setting up of help desk in the Ministry for facilitating exports and issues pertaining to exports.
It is hoped that as the Government of India is well aware of the current situation of export and import which has been affected due to situation in China and holding of this symposium will further add the inputs placed by different EPCs said Shri Rakesh Kumar, DG – EPCH.