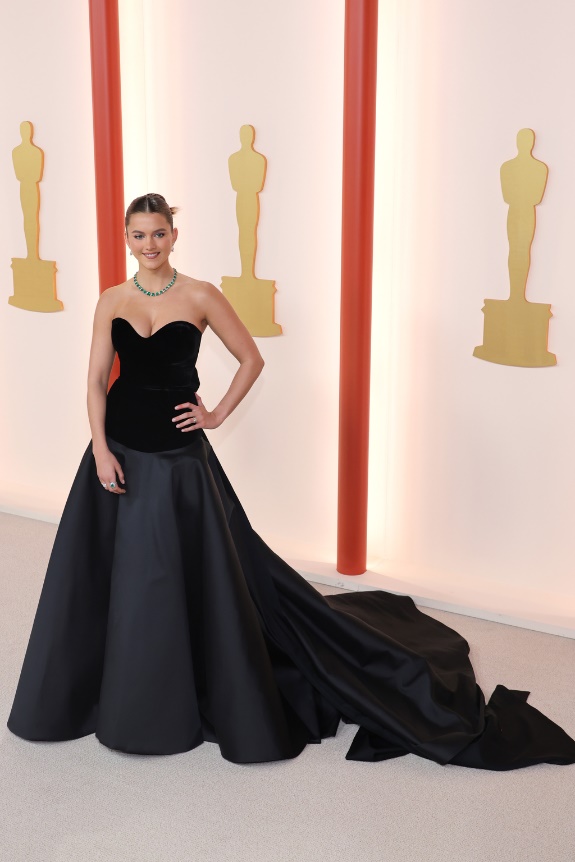 Lenzing's Tencel brand and RCGD Global, formerly known as Red Carpet Green Dress, have teamed up for the fourth year running to highlight eco-couture at the Oscars.
Sustainble Oscar occasion wear
Bailey Bass and Chloe East wore bespoke sustainable occasion wear made from Tencel branded fibres and Tencel LUXE filament yarn. The gowns were created in accordance with this year's Oscars sustainable style guide, produced by RCGD Global. The aim is to promote sustainable materials and their positive impact on the environment in the fashion industry.
Harold Weghorst, global vice president of marketing and branding at Lenzing AG, said he hoped that "by giving sustainable materials a greater representation at the Oscars, we can draw attention to the need to lower the environmental impact of the fashion industry". Meanwhile, Suzy Amis Cameron, founder of RCGD Global, said that working with Tencel allowed the organisation "to discover what sustainability means to them and how they want to represent the message on the Red Carpet".
Bailey Bass wore a custom-made, cream-coloured halter gown made by New York-based designer Zac Posen using four cuts of fabric made from 100% Tencel LUXE filament yarn. The gown has an open-back design with an off-the-shoulder cuffed poet sleeves. Chloe East wore a custom Monique Lhuillier gown, with an A-line ball gown skirt and a black statement bow with sweeping ties made using Tencel Lyocell fibres. Both Tencel LUXE filament yarn and Tencel Lyocell fibres are fully biodegradable and compostable, having been derived from sustainable wood sources and produced using eco-responsible production processes.
Co-creating digital to physical
This year Tencel and RCGD Global worked with Web3 innovators institute of Digital Fashion and CLO Virtual Fashion to create a bespoke digital version of Zac Posen's gown for Bailey Bass, highlighting the potential for digital design technologies to address the environmental issues associated with physical fashion and event dressing.