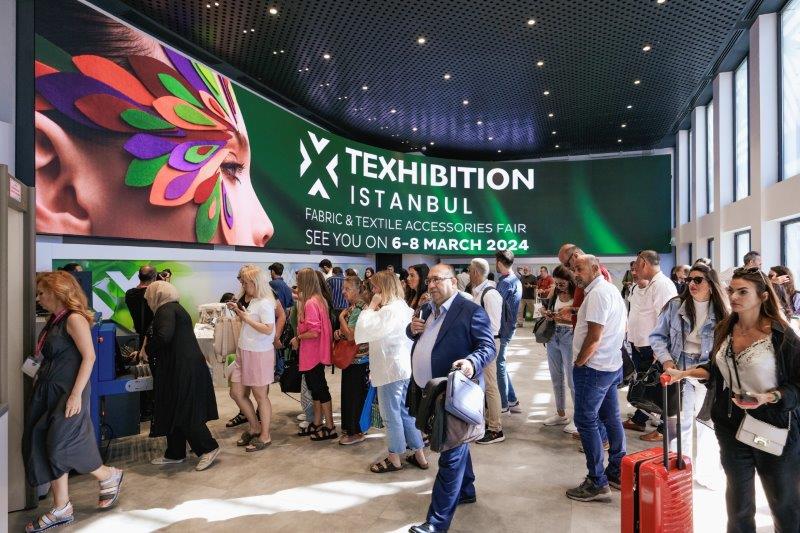 The fourth edition of Texhibition Istanbul Fabric, Yarn, and Textile Accessories Fair, held at the Istanbul Expo Center from September 13 to 15, solidified its reputation as a global textile powerhouse. Since its debut in March 2022, Texhibition has rapidly ascended in the international trade fair scene. This year, it hosted 444 exhibitors across 15,000 square meters, drawing an impressive 20,354 attendees from 112 countries. Notably, international visitors surged by 43.7%, with a total visitor increase of nearly 10% compared to March 2023.
Turkish Textile Industry: A Global Force
Ahmet Öksüz, Chairman of the Board of the Istanbul Textile Exporters Association (ITHIB), highlighted Turkey's textile industry's resilience. With Turkish exports reaching USD 123.4 billion in the first half of the year, the country ranks as the world's fifth-largest and the EU's second-largest textile supplier. Boasting a value chain covering the entire spectrum, Turkey contributes 3.5% of global textile exports and 16% of EU textile imports. High-quality, innovative, and sustainable Turkish textiles continue to garner worldwide demand, with exports reaching USD 6 billion in H1 2023.
Expanding Horizons
Looking ahead, M. Fatih BİLİCİ, Vice President of the Board of ITHIB and President of the Texhibition Istanbul Executive Committee, revealed ambitious plans for Texhibition Istanbul in March 2024. The event will expand to five halls, with a dedicated hall for the yarn product group.
Satisfying Outcomes
The bustling atmosphere at the Istanbul Expo Center was palpable throughout the fair. Renowned market giants and emerging export-oriented companies showcased textiles, ingredients, prints, yarns, artificial leather, and fibers. Exhibitors voiced their satisfaction, underlining Texhibition's pivotal role in supporting Turkey's textile industry in the global market.
Global Presence
International visitors hailed from various countries, including EU nations, Russia, Ukraine, and the Middle East. Prominent buyers from Poland, the UK, Italy, and Spain capitalized on the organizers' matchmaking services. Additionally, Texhibition welcomed its first-ever delegation from the Dominican Republic, highlighting its growing international appeal.
Sustainability in Focus
Texhibition's theme, "United For Climate In Textiles," emphasized the textile industry's commitment to addressing environmental challenges. Future editions will allocate exhibition space exclusively to participants meeting sustainable criteria.
Fashion Forward
The Trend Area showcased the latest fashion trends for Autumn/Winter 2024-25. Themed sections explored well-being, wellness, natural textiles, eco-consciousness, glitter, intelligent textiles, environmental activism, and new materials and aesthetics, all underscored by sustainability.
Trend Seminars
Renowned trend expert Pascaline Wilhelm captivated the audience with insights on fashion, textile, artificial intelligence, and eco-responsibility.
Mark Your Calendar
Mark your calendars for the next Texhibition on March 6-8, 2024, as it continues to shape the future of the global textile industry.