The 11th edition of Interfilière Shanghai was held from October 12 to 13, 2015. The two-day event successfully showcased latest, innovative information from intimates, swimwear and leisurewear industries.
Around 220 exhibitors from 15 countries including Austria, China, France, Germany, Hong Kong, India, Indonesia, Italy, Japan, South Korea, Taiwan, Thailand, United Kingdom, United States and Vietnam, introduced their products and business opportunities to the industry. Almost 76 per cent of the visitors came from Mainland China maintaining the same global proportion as last year. Vietnam marked its entry in the new top 10 visiting countries. Australia as well as Thailand boosted their ranking respectively. Most of the Chinese visitors came from Shanghai while the number of Guangdong visitors slightly dropped.
Exhibitors appreciate quality of visitors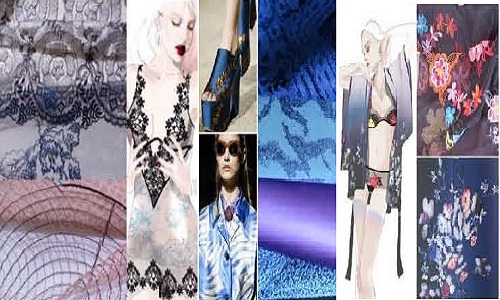 This edition of Interfilière Shanghai was highly appreciated by Untitledsdexhibitors for the good quality of the visitors. "Interfilière Shanghai 2015 was a great success. A lot of buyers showed positive interests in our products and exchanged ideas. With good security arrangements and a convenient environment, the exhibition has given us a great opportunity to exhibit our products and a platform to show our potential," said Chim, Director of Takefast.
Lin, Vice President of Fujian Donglong Knitting & Textile opined, during these two days, the company's team members were very busy. "We will be exhibiting again next year, " he added. "I am satisfied with the quantity of the visitors. Most of our old customers are from domestic market. This year, we have seen more of our old customers onsite than last year. We will attend the show next year," reiterated Zheng, Vice General Manager of Fujian Changle Xinmei Knitting Textile Co.
Intriguing trends preview and Mouv'Innovation Forum
Interfilière Shanghai in collaboration with Concepts Paris once again introduced a preview of the 2017 Spring/Summer trends. The 270m2 trend forum has attracted wide attentions from visitors. It was a real feast of colours, textures and ideas illustrating the multitude of exciting development in the world of lingerie, beach and athleisure.
Fashion, sport and health are definitively the key words we need to keep in mind for the lingerie of tomorrow. In partnership with the Federation de la Maille et de la Lingerie, Interfilière Shanghai brought to visitors and exhibitors the 'Mouv'Innovation Forum' highlighting technical and innovative textiles and accessories for high performance application in the sports and medical fields. Following the great success of this new interactive forum on Interfilière Paris last July, the Mouv'Innovation Forum has been a great interest for visitors from Interfilière Shanghai. Visitors were quite curious about the technical aspect of some fabrics such as the microencapsulation process for cosmetotextiles.
The forum displayed fabrics of our exhibitors with different properties such as quick drying, thermoregulation, compression, bistretch, resistance to abrasion or UV, breathable, antibacterial, cosmetotextile… and were illustrated by finished products like sports bra with moisture management (quick drying), sports leggings with thermoregulation, knee pad with warming and anti-pain properties.
The aim of the forum and the Mouv'Innovation leaflet was to help visitors and exhibitors understand the market, the technicity and the innovations of the world of sports and medical lingerie.
Seven exhibiting companies honoured
For the second time, Interfilière Shanghai rewarded the know-how and collections of seven exhibiting companies. Interfeel'Award – Embroidery was given to Liberty Tex (Taiwan), the leading supplier of embroidered fabrics, trim and accessories. The company commercialises its products for interior design, lingerie and ready-to-wear industries. Awarded for its development on ready-to-wear and lingerie industries, Liberty Tex has an expert knowledge on various embroidery techniques.
Interfeel'Award – Lace was awarded to Gayoulace (China). Founded in 1998 in China, Gayoulace is known for the research, design, promotion, techniques, production and marketing of lace and lace fabrics. Interfeel'Award – Accessories was conferred to Takefast (Hong Kong). Founded in Hong Kong in 2007, Takefast is a large size company specialized in developing and manufacturing elastic bands. The company is focused on the international intimate apparel market.
Interfeel'Award – OEM-ODM went to Tengfei (China). Founded in 1997 in China, Tengfei manufactures innovative products (seamless underwear, cup mold development) for the lingerie industry. Focused on the process research, the company is recognized worldwide and enjoys a high reputation in overseas markets. Interfeel'Award – Fabrics went to K-Boxing Warp Knitting (China). Founded in 2001 in China, the company is specialised in the development, production and sales of high-end warp knitting fabrics. The company is an internationally renowned brand supplier in the lingerie, swimwear, casual wear industries and other fields.
Interfeel'Award – Fabrics/Prints was given to Suzhou Famous Textile (China). Founded in 2014 in China, Famous Textile is a new-founded autonomous brand, which comes into vogue with its own design team. The company is developed on the underwear and swimming suits industry. Awarded for the creativity of the prints, the company produces a variety of high quality fabrics and caters to different markets such as ready-to-wear, beachwear and lingerie.
Interfeel'Award – Coup de cœur Europe was awarded to Muehlmeier (Germany. Founded in 1945, it is a recognised brand in the development, production, innovation and sales of bra-cups for the lingerie and swimwear industry. The company is also specialised in shoulder pads and art deco body styling adornments.