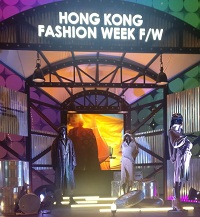 The 49th Hong Kong Fashion Week Fall/Winter opened doors today at the Hong Kong Convention and Exhibition Centre (HKCEC). The show organized by Hong Kong Trade Development Council (HKTDC) is being held from January 15 to 18 with 1,397 exhibitors from 13 countries and regions participating. They are showcasing latest fashion designs, global brand collections, garments, fashion accessories, fabrics and clothing accessories. The participating countries are: China, India, Indonesia, Japan and Pakistan with group pavilions. France, Bangladesh, Korea, Hong Kong , Taiwan , Thailand and the USA are the other participating countries; Malaysia joins as the new country participating in this edition of fashion week.
The theme for this edition is: 'New-World Explorers'. Two new zones are debuting under this theme viz, 'Corporate Fashion and Uniforms' and the 'World of Fashion Accessories'. The other major product zones are: Clothing Accessories, Emporium de Mode, Fashion Gallery, Fashionable Sportswear, International Fashion Designers' Showcase, and Fabrics & Yarn among others.
Hong Kong exhibitor Innee-Sedona International will showcase a range of fashion accessory from Céline Dion brand. The brand's 2018 F/W collection will make its world debut at Hong Kong Fashion Week with a range of products including handbags, luggage and small leather accessories. The Hong Kong Research Institute of Textiles and Apparel (HKRITA) and the Institute of Textiles and Clothing of The Hong Kong Polytechnic University will also showcase their newly developed textile products featuring temperature-control functions, suitable for both general apparel and specialised medical applications. Ningbo Seduno Group from Chinese Mainland is the biggest exhibitor.
More than 20 exciting events including fashion parades and presentations, seminars, as well as a buyer forum and networking reception will be staged. Fair highlights include: Fashionally Presentation, launched for the first time by the Hong Kong fashion website Fashionally.com. Unlike conventional catwalk shows, the parade will showcase 2018 FW works of local fashion designers Derek Chan, Aries Sin and Mim Mak, in a storytelling format set in a theatre-like stage, presenting a unique experience for buyers.
Hong Kong an important trade center in global textile and clothing and accessories space, clocked in business worth $13.2 billion in Jan-Nov 2017, recording a drop of 7.7 per cent over previous year during the same period and imported worth $11.3 billion during the same reflecting a drop of 5.7 per cent in the same period previous year.